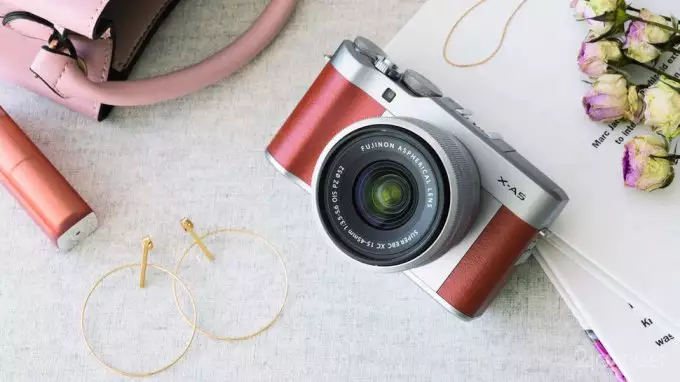 The Fujifilm lineup includes quite a few models of small cameras, but the new X-A5 will be the best among all available in both ease of use and price.
Fujifilm X-A5 has an APS-C format 24.2 matrix with auto focus system, phase detection sensors and an array of Bayer filters. In addition, the manufacturer emphasized that a new model processor is built into the camera, which allows you to process photos 1.5 times faster than before. The sensitivity range is ISO 200-12800, the exposure range is from 1/32000 to 30 seconds.
The camera can perform 4K video shooting with a resolution of 3840 × 2160 pixels, but only at a speed of 15 frames per second and no more than 5 minutes. When creating clips in Full HD format (1920 × 1080 pixels), the speed can be selected from 60, 50, 24 and 23.98 fps. It supports serial shooting at a speed of 6 fps. with saving pictures in JPG format.
A 3-inch LCD touchscreen diagonal can be rotated 180 ° and take a selfie if necessary. Of the wireless connections, Wi-Fi 802.11b / g / n and Bluetooth 4.1 LE are provided. There is a stereo microphone, USB 2.0 and mini-HDMI interfaces. The dimensions of the camera are 116.9 x 67.7 x 40.4 mm and weighs 361 grams with a battery and an SD / SDHC / SDXC memory card. The 1200 mAh lithium-ion battery is designed to create 450 frames on one full charge.
The new FUJINON XC15-45mm F3.5-5.6 OIS PZ lens with 3x zoom and optical stabilization comes with the camera. The manufacturer claims that due to the rather short minimum focus distance, it is also optimal for macro photography. In general, the Fujifilm X-A5 camera is designed to work with Fujifilm X lenses. The X-A5 model will be available at the end of this month. The price will be 40 thousand rubles. The FUJINON XC15-45mm F3.5-5.6 OIS PZ lens can be purchased separately from the camera for 20 thousand rubles.