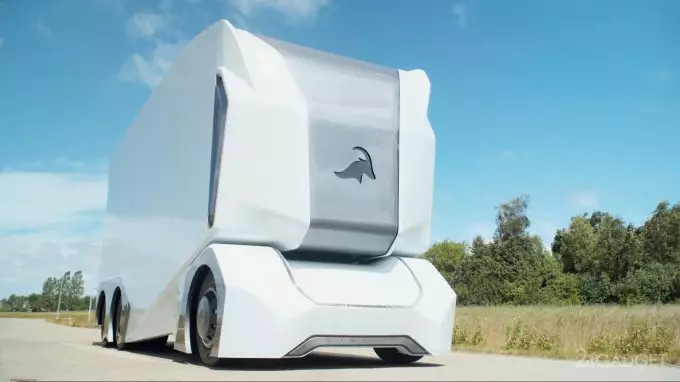 Einride is a major manufacturer from Sweden. According to company representatives, after about six months, sales of fully automated T-pod electric trucks will start, which have received the media nickname \
Unmanned vans use an autonomous driving platform based on NVIDIA technology. It will help powerful electric cars to move along common roads independently, without the participation of the driver. One charge of the T-pod is enough to travel up to 200 kilometers. The electric propulsion system of the self-propelled truck is powered by a battery pack generating 200 kWh. For maximum safety, the autopilot platform, also released by NVIDIA, will meet. According to the creators of the truck, it is equipped with advanced technologies of autonomous positioning Drive AI and its own development of Einride engineers. All this serves the effectiveness in laying routes and speed of delivery of goods in any direction both within the city and in its suburbs. The unmanned mode in trucks is supplemented with operator remote control technology. So on dangerous sections of tracks and in cases where this is indicated by local legislation, the person behind the control panel can also control the machine (T-pod has no cab for the driver). Einride has already worked out the route between the Swedish cities of Helsigborg and Gothenburg . This is where two hundred drones will start this fall. The developers even published a video in which they demonstrated the movement of the T-pod on autopilot.
The capabilities of the T-pod include the delivery of one and a half dozen standard pallets. True, the developers do not yet disclose the exact parameters of the model's carrying capacity. They will probably be small, because the battery capacity is also small. In addition, the system of petrol stations is not sufficiently developed in the EU and Sweden, in particular. So the T-pod will definitely not compete with heavy wagons traveling along long routes. However, they will be a good solution for simple routes. The main thing is to ensure safety when moving on autopilot. Otherwise, there can be no talk of the large-scale use of such trucks.