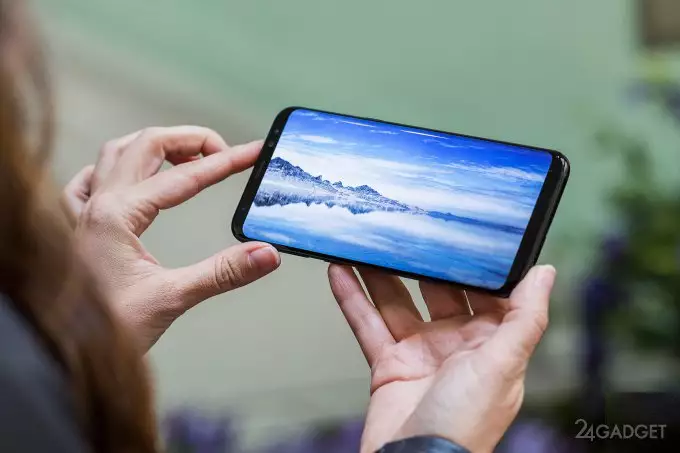 The American company DisplayMate, specializing in detailed testing of accurate color reproduction and screen calibration, upon completion of the analysis of the display of the Galaxy S8 smartphone, recognized it as the best of all previously released for Samsung mobile devices and assigned it the highest rating in the history of their tests – "A +". companies from New Hampshire is confirmed by numerous analytical reports on the quality of the displays for smartphones. Earlier, experts from DisplayMate critically approached Apple's proposed Retina display for iPad Mini devices, which, according to company representatives, was significantly inferior to competitors. At the same time, DisplayMate noted the high quality of the iPad Air 2 tablets, and recognized the screens for the sixth iPhone as the best among LCD displays. Exceed iPhone 6 in screen quality could only released on OLED technology Galaxy Note smartphone display.
The testing of Samsung Galaxy S8 smartphones confirms the emergence of a new leader in image quality on the market. The expert report presented by DisplayMate has a large number of comparative characteristics that are understandable and interesting to specialists in the development of new displays. According to most of the technical characteristics, the Galaxy S8 displays have the highest indicators, which made them the leader among modern screens for smartphones. Among them, one can note a high indicator of screen brightness (over 1000 cd / m²), as well as 113 percent coverage of the DCI-P3 color space and 142 percent coverage of the sRGB / Rec.709 space. The Galaxy S8 screen was the first in the world among mobile gadgets from UHD Alliance Certified Mobile HDR Premium. The viewing angles are increased compared to earlier versions, and the Video Enhancer mode provides a wide dynamic range for viewing video files without encoding using HDR technology.
It should be noted that Samsung's rival, Apple, uses LCD screens in its mobile devices, which, according to DisplayMate, are the best in their class. The sharp rejection of OLED class displays at Apple was eloquently expressed by its head Tim Cook, who called them "terrible", not transmitting natural color shades, which does not allow the consumer to accurately determine the choice of a quality screen when buying a smartphone via the Internet. However, judging by the latest data, Apple has revised its attitude to OLED displays – Samsung has ordered over 70 million of these displays for installing them in iPhone 8. Apple plans to release smartphones with organic LEDs in the fall of 2017.