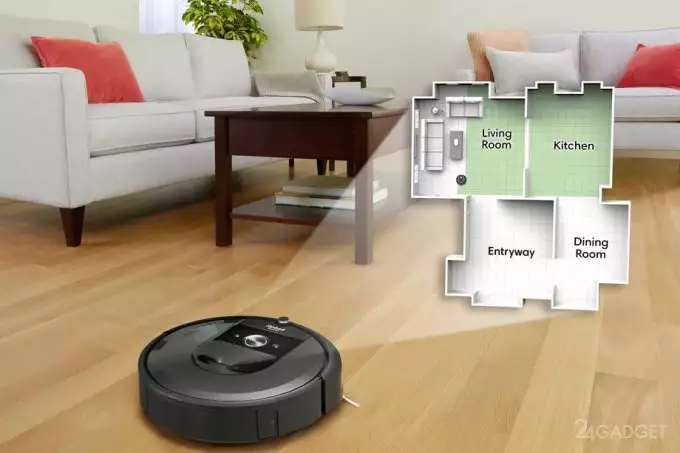 The well-known manufacturer of robotic vacuum cleaners iRobot, in partnership with Google, will add information about the structure of customers' homes to smart home devices. So, for example, the latest standalone Roomba cleaning assistants are equipped with technology for scheduling floors and rooms of a house using the odometric data they collected and low-resolution camera photographs. This allows users to control the robot to clean a specific room using a mobile application or smart speaker voice commands. Google wants to use iRobot Imprint Smart Mapping technology to create controls for other gadgets. For example, it can control lighting, thermostats, and a stereo system.
iRobot's Roomba Vacuum Cleaners with Wi-Fi can already be controlled using voice commands from Google Home smart speakers and Amazon speakers. For example, using the Google Assistant, you can direct Roomba to vacuum a specific room. All that is needed is a simple voice command, such as "Hey Google, clean the kitchen." Earlier this month, at HUBweek in Boston, iRobot and Google showed off their shared vision for a smart home. They showed how a simple voice command, such as Good Morning, can power a bunch of smart gadgets. These devices included lights, music, laid the bed and started the coffee maker. A completely different scenario is activated before bedtime. With the phrase: "OK Google, good night," the lights turn off automatically, the doors lock, the alarm system turns on and the thermostat is regulated.
As the Internet corporation emphasizes, the goal of cooperation is to create a thoughtful smart home using a unique dataset collected by iRobot: customer house maps. Google assures that any information obtained in this way will not be used in the advertising business of the company and that the data will not fall into any larger data collection project. In addition, the exchange of this information is voluntary. So partners expect to reduce the fears that will surely arise in any person who is aware of how Google loves to violate the boundaries of privacy.