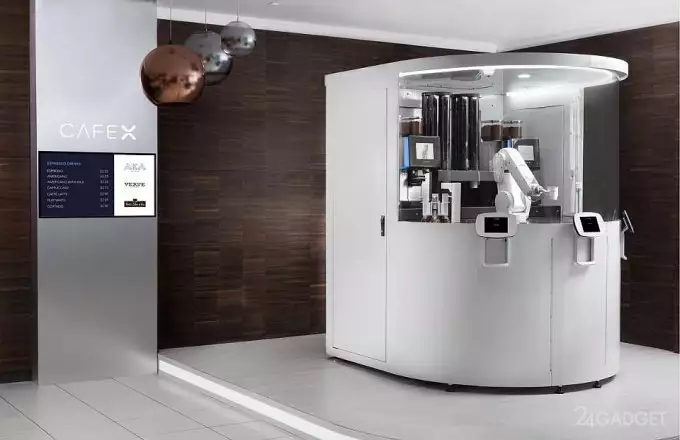 In San Francisco, Cafe X has a staff member who manages to make 100 to 120 cups of coffee in an hour. His name is Gordon, he does not tend to get tired, be distracted by conversations with visitors and build eyes for the people he likes, because this is a high-precision Mitsubishi manipulator with six axes of movement, running under the control of special software. You can order a fragrant drink in Cafe X through the mobile application or the terminal in the coffee shop.
Espresso and latte from three types of beans with several different fillings are offered at the choice of visitors. After receiving the order, the barista robot selects the necessary ingredients and brews the drink with the help of two coffee machines, if there are many who want to. The whole process takes 1-3 minutes. After that, the completed order is installed on a special platform with heating, where the buyer can pick it up by entering a four-digit code from a mobile application or terminal. At Cafe X, espresso sells for $ 2.25 a dollar, latte for $ 2.95. For San Francisco, it's cheaper than Starbucks. It is noteworthy that when placing an order, you can specify the time at which it will be collected – this is done to save time. But if the customer is late and arrives 6 minutes later, Gordon will recycle the unclaimed coffee.
It is reported that a coffee shop with a robotic barista cost a group of investors $ 5 million, but Cafe X does not lack visitors.