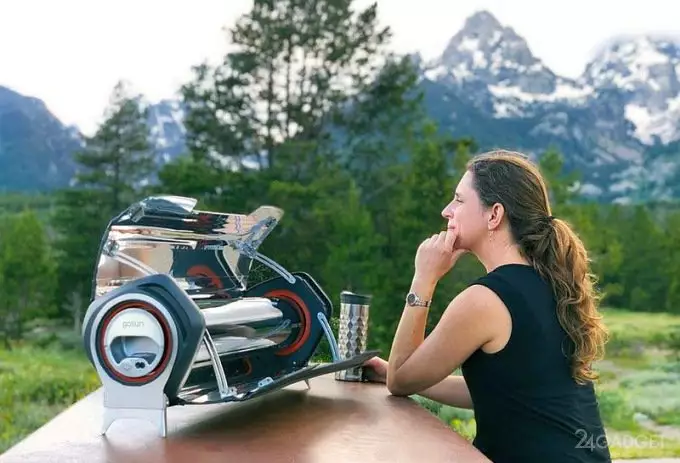 GoSun startup over the past 5 years has three times updated the range of portable stoves that it produces using solar energy. Now there is a fourth modification called Fusion, eliminating the lack of predecessors, when it was impossible to cook food at night without the energy of the star.
It would seem that this feature is logical for the solar stove. However, consumers really wanted to fix it. So the manufacturer decided to meet them. Structurally, the novelty is almost identical to past models. It is based on the construction of parabolic reflectors focusing light on a surface made of borosilicate glass. In this case, the design warms up to a decent temperature. In the container, you need to lay the products for subsequent heat treatment. Now it has been supplemented with an integrated electric element that performs the same function. He is warming the stove.
For the heater to work, an electric current source with a power of 150 W and a voltage of 12 V is required. GoSun suggests using a proprietary 45,000 mAh lithium-ion power bank or a 20-watt portable solar battery for this purpose. Alternatively, you can use another available energy source – a car battery.
Due to the availability of additional equipment, the weight and dimensions of the mobile device increased to 58 x 21 x 21 centimeters and 4.5 kilograms. However, the capacity of the cooking module has increased to 3.2 liters.
All GoSun projects finish successfully. Most likely, a similar fate awaits Fusion. The cost of the basic option is $ 299. Electrical accessories will require additional costs. The release of new items will begin next spring.