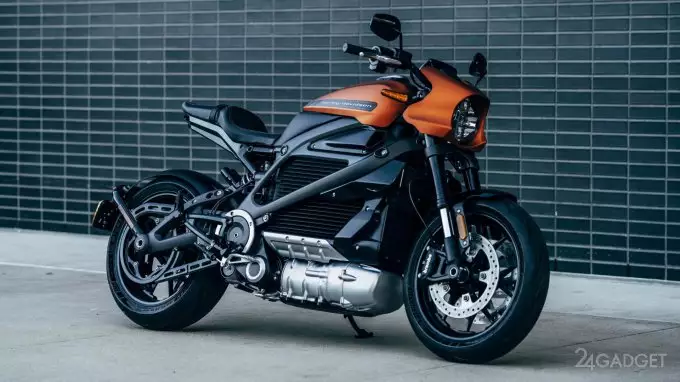 Harley-Davidson is a motorcycle manufacturer in the United States who needs no introduction. At the EICMA 2018 Motor Show in Milan, the company showed off its first LiveWire electric motorcycle. The model is similar to the prototype introduced 4 years ago.
The manufacturer reported a little information about the new product: LiveWire will receive an absolutely adjustable Showa suspension and a minimum of 7 driving modes. They promise to equip the novelty no worse than the leading Japanese sports bikes. The electric motor will have its own audio system, producing sound in accordance with acceleration and speed. Showa will be equipped with 2 lithium-ion batteries enclosed in an aluminum case. A 12 volt battery will power the lighting system and the horn, the other will be responsible for the mileage. LiveWire brake pads – Brembo Monoblock with two 300 mm diameter discs.
You can connect to an electric motorcycle via Bluetooth: playing music and navigation will become even more convenient. On the steering wheel is a touch screen to display all the necessary information. The novelty battery can be charged from a home outlet. If desired, dealers can purchase a special charging station.
Experts believe that Harley-Davidson is betting on fashionable electric vehicles right now, because it is going through hard times. However, here, the manufacturer will have to fight for the customer. Today, the market offers an incredible variety of models of electric motorcycles for every taste.
Announcement of new items will take place next year, however, the exact date of the event is not named. Later, the legendary company will release a series of electric bikes, the first sign of which will be LiveWire.
5e9fb