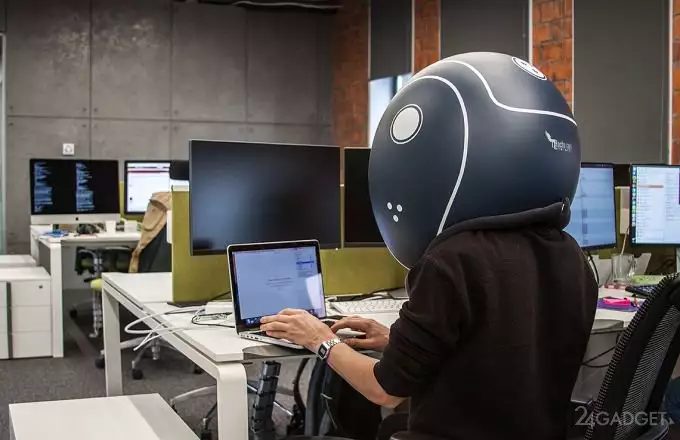 A new development from the Hochu rayu design bureau will increase the efficiency of each employee in an open office in open space format. With the help of the Helmfon helmet, the problem of noise and difficulties with focusing on one's affairs is solved in two ways.
The novelty looks like a larger copy of the biker headgear. An excellent sound insulation to the user is guaranteed by its multi-layer structure: fiberglass, high-tech membrane fabric, as well as an additional layer of foamed polyethylene. A full performance will be provided by the motherboard, a powerful battery, microphone, speaker and even a magnifier. In addition, Helmfon provides space for a telephone.
With this helmet you can not only play video and audio in absolute silence (and, most importantly, without interfering with your office neighbors), but also edit photo materials and arrange presentations: the helmet can work as a projector, just attach it to the projector the wall. The ability to take part in Skype conferences will save managers from the need to allocate a separate room for a conference room and to solve urgent issues as quickly as possible. Employees do not even have to leave their jobs. The model will be available in several shades.