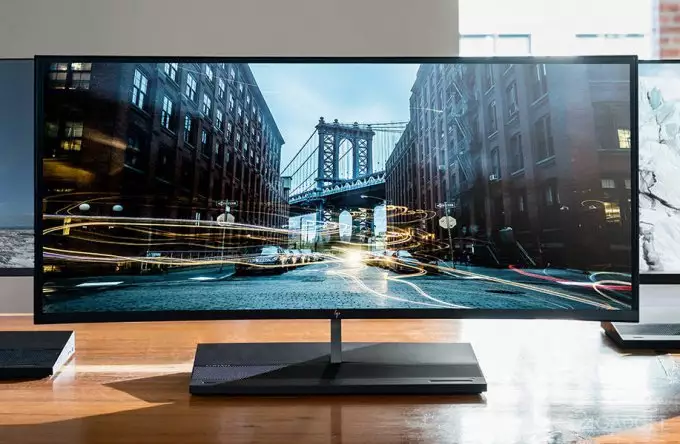 Hewlett-Packard Inc. continues to expand the range of computers designed for corporate clients and for work in offices. This time presented a monoblock computer EliteOne 1000 G1.
The design of the monoblock assumes that the entire hardware is located in the stand, which is easily disassembled, providing access for repairs or upgrades. However, the highlight of the new items is a removable display. The user, depending on the need, the complexity of the task or for modernization, can easily change one monitor for another.
The developers have provided the opportunity to choose one of four types of displays. Available for users: displays with a diagonal of 23.8 inches in touch design with a resolution of Full HD (1920 x 1080), a display without touch control with a diagonal of 27 inches and a resolution of 4K Ultra HD (3840 x 2160), as well as a display with a curved screen with a diagonal of 37 inches and a resolution of 3440 x 1440 pixels.
Monoblocks are equipped with various power processors. The most productive is the 4-core Intel Core i7-7700 with the highest frequency of 4.2 GHz. RAM format DDR4-2400 with a maximum capacity of 32 GB. Monoblock is equipped with a wide variety of drives, among which there are HDD, SSD and PCIe NVMe. The EliteOne 1000 G1 has a large selection of interface connectors: two USB-C 3.1 ports, four USB 3.1 Type-A, inputs and outputs. Each of the displays has a web-camera and an infrared sensor. Gigabit Ethernet, Wi-Fi 802.11ac and Bluetooth adapters are also installed. A speakerphone is integrated in the monoblock stand.
HP EliteOne 1000 AiO G1 will be available for purchase already in the current month. The price of a monoblock initial configuration with a 23.8-inch display of non-touch performance will be equal to 1259 dollars.