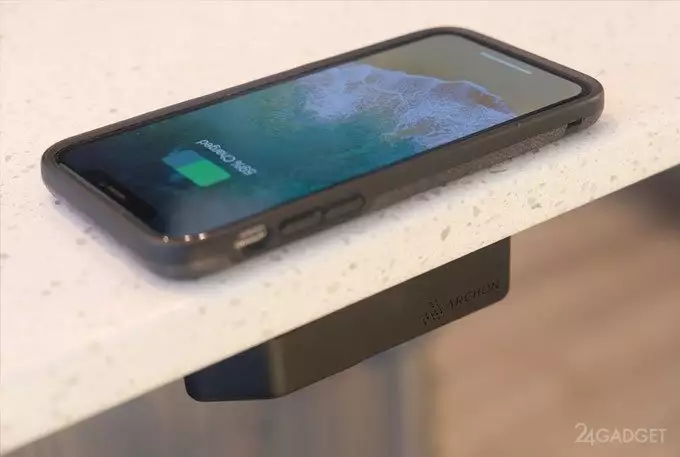 Archon is a wireless charger that mounts even under the table. Its power is enough to charge the smartphone lying above it. Admittedly, the concept is convenient and practical. This is not a stand with a hanger or saucer for gadgets, elementary, brushed aside by mistake!
In everyday life, we often put a smartphone in the same familiar place on the desktop or window. There, as a rule, lies a charging cable that cannot be removed from a computer USB port or socket. After all, smartphones are usually enough for no more than a day. In such a situation, mounting the charger under the windowsill or table seems a practical option. The authors of the project assure that the power of their gadget is enough to "punch" glass, plastic, wood, granite and quartz.
The device is planned to be released in two versions. One copes with fairly powerful countertops up to 35 millimeters thick. Another is suitable for standard furniture – up to 25 millimeters. Wireless standard is used by many manufacturers. The novelty can be used with Samsung Galaxy S6 and more recent models, Apple iPhone 8 and above, Google Nexus 4+ and other advanced models.
The basic version of the wireless charger is offered for $ 59, a more powerful option for $ 89. Now available are only powerful options for 89 dollars, as well as combined lots worth $ 142. You can choose the color to your taste: white or black.