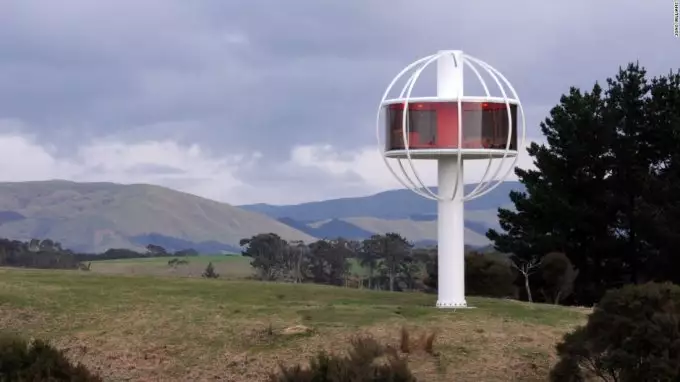 Each person dreams of having his own corner, where he can relax from everyday workdays and indulge in his favorite pursuits alone or, conversely, in the company of like-minded people. Someone leaves for the garage, someone goes to the club, someone leaves for nature, and the 28-year-old engineer and part-time designer Jono Williams from New Zealand created for himself a high-tech relaxation room.
At first, the enthusiast wanted to build a tree house, but realized that the construction would be too heavy. Therefore, it was decided to develop a tree-like metal structure, which can be installed in any picturesque place in the presence of relatively solid soil. The result was a kind of tower with a residential module with an area of 25 square meters and a 360-degree view. The author named Skysphere his creation.
The mini-house on the leg is equipped with modern technologies
Almost any on-off of electrical appliances is carried out using voice commands or an Android smartphone. Skysphere receives energy thanks to solar panels and several batteries. There is enough electricity to operate a multimedia center, wireless audio, a projector, multi-colored LED lighting and other things (like a refrigerator with soft drinks). There is also a double bed and high-speed Internet access. By the way, getting into the tower is not so simple – the front door is equipped with a fingerprint scanner.