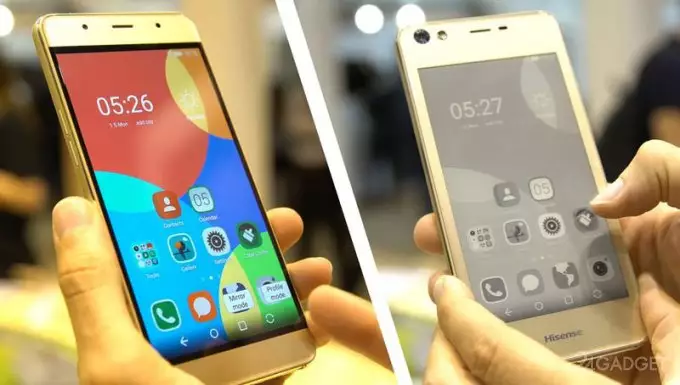 The Chinese are copying everything that is in demand among customers, and this time Hisense released an analogue of the Russian smartphone YotaPhone with an additional electronic ink display on the rear panel. The novelty was called Hisense A2 and the cost is about $ 440.
Hisense A2 is endowed with the main 5.5-inch AMOLED-screen with FullHD-resolution (1920 × 1080 pixels) and a black and white 5.2-inch E-ink display with a resolution of 960 × 540 pixels located on the back. Electronic paper is not afraid of sunlight and does not waste energy in vain – the ideal solution for displaying static information.
Inside the YotaPhone clone, a Qualcomm Snapdragon 430 processor with a clock frequency of 1.4 GHz and Adreno 505 graphics, 4 GB of RAM and 64 GB of internal memory, 16 MP camera (with phase detection autofocus and f / 2.0 aperture) and 5 MP, 3090 mAh battery are installed with the ability to quickly charge, a slot for two SIM cards, a modem with LTE Cat 4 support, a fingerprint sensor, an infrared transmitter and Wi-Fi, Bluetooth, GPS and A-GPS modules. A built-in electronic reader provides access to an online library of books. You can control your smartphone through a black and white screen, which extends the autonomy of Hisense A2. The thickness of the device is 8.45 mm, weighs Hisense A2 188 gr.