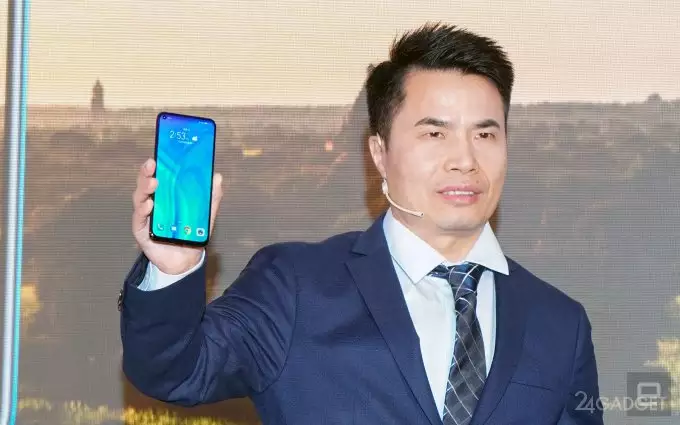 The desire to be "the first" prompted Honor (the brand belongs to Huawei) to urgently announce the new Honor View 20 smartphone, on the front side of which there is an ambiguous trend for next year – a screen with a "hole" for the front camera. And more expected – a 48-megapixel camera with a Sony IMX586 sensor.
The true full-fledged announcement of the Honor View 10 smartphone receiver is due to take place on December 26 in Beijing, followed by an international presentation in Paris on January 22, 2019. But the planned announcement of new products from Samsung spurred the Chinese to "thunder" earlier. However, the company did not disclose all the details about the Honor View 20.
So, the Honor View 20 received a "holey" screen, presumably in the format of 2310×1080 pixels with the brand name All-View Display and a 4.5 mm hole (Samsung 6 mm) in the upper left corner. The parameters of the selfie camera are unknown, but there is one caveat – the lens is integrated directly into the display, that is, there is no hole as such.
At the heart of the device is the top-end Kirin 980 chipset. To improve the quality of communication and data transfer, the company used Link Turbo technology, which, analyzing available Wi-Fi and cellular networks, provides maximum functionality by using wireless access points and 4G at the same time, or by switching between them.
The 48-megapixel Sony IMX586 sensor is used as the main camera. Honor did not talk about all the nuances of the sensor's operation and smartphone's functionality, but told about the new 48MP AI HDR shooting mode for creating high-quality images in low light, in which the pixel size increases from 0.8 μm to 1.6 μm. The resolution of the image in this case will be 12 megapixels. Photo examples from the presentation are given below.
It is expected that Honor View 20 will also receive support for fast charging technology and the latest Android 9.0 Pie OS.