The New York Times talked about how the App Store's issuance on popular queries has changed over the years, depending on Apple's commercial interests and regulatory claims. One of the most striking examples is music.
In 2013, at the request of "music" in the first place was the Spotify application, and then – other services and players that were not related to Apple. In June 2016, the situation changed: by the same request half of the first page of the App Store on the iPhone was paid advertising, followed by the Apple Music application, and Spotify was only the fourth. In February 2018, as many as six Apple music-related apps (Apple Music, Garage Band, Music Memos, iTunes Remote, Logic Remote, iTunes Store) followed the ad, and Spotify was the eighth.
In December 2018, there were eight Apple applications after the advertisement (some of which weren't about music), and Spotify moved down to 23rd position. But as soon as Spotify complained about Apple to European regulatory authorities, in March 2019 the issuance changed dramatically: the advertisement remained, but only two Apple music applications followed, and Spotify returned to the fourth slot.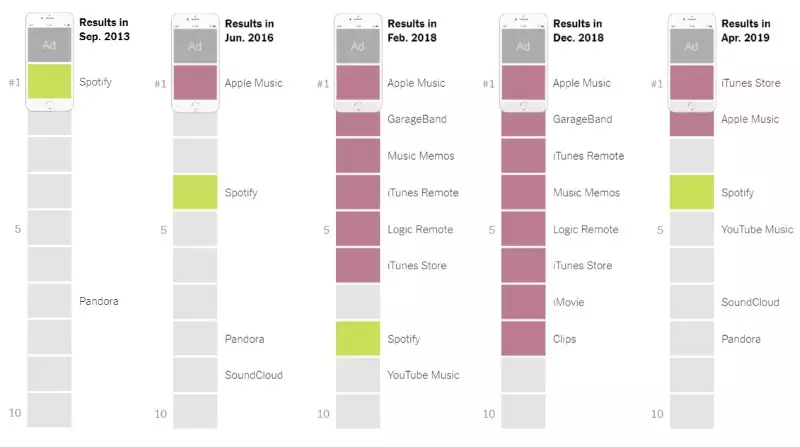 New York Times reporters examined extraditions for other popular queries (tv, video, maps). As soon as Apple had any service, the company began to aggressively promote it, underestimating the delivery of its most powerful competitors. In the spring and summer of 2019, the promotion was not so aggressive: Apple still shows its services above others (apparently, considering them to be of higher quality), but other popular applications returned to the top positions.
According to Sensor Tower, Apple ranks its apps ahead of the others with 735 queries out of the 60,000 most popular. Including when searching for applications according to books, music, news, magazines, podcasts, video, TV, movies, sports, card, gift, money, credit, debit, fitness, people, friends, time, notes, docs, files, cloud, storage, message, home, store, mail, maps, traffic, stocks, weather.