A good webcam can be quite expensive, and at the right time, it may simply not be at hand. And the quality of the camera on such a device is likely to be worse than on your iPhone. Why not use your smartphone as a webcam for video communication? And it's not really that hard to do.
Video conferencing iOS applications
Using the iPhone as a webcam for your computer requires the installation of an appropriate application on your smartphone. It is worth running this program and checking its functionality, as well as the corresponding program (links below) on a Windows or Mac computer. Sometimes it is possible to do without a computer at all. In this case, you should use familiar messenger applications.
If you want to make a Skype call using a webcam, chat with colleagues in Zoom or Slack, or just chat with friends via WhatsApp or Viber, try downloading the appropriate iPhone app. These apps are specially designed for mobile devices, so they work great on a small screen.
If you want to use the speakerphone while using your iPhone, you will need to buy an inexpensive tripod. There are many smartphone tripod mounts on the market that allow you to conveniently place any video equipment you have. Almost everything you need will make a quality spider tripod, which you can install on almost any surface.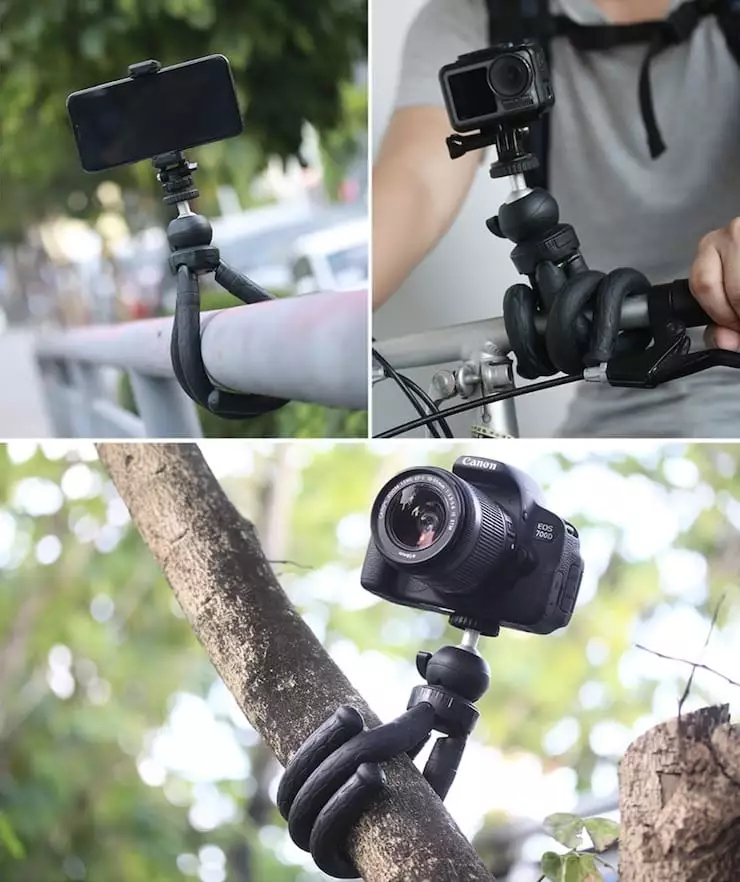 The main disadvantage of such a scheme is that you will depend on the microphone and speaker of the iPhone. Wireless headphones are the best way to solve this problem. The sound quality will be quite good and it will be much easier for you to understand the microphone that is so close to your face.
Of course, sometimes you have to work on a computer. In this case, there is little that can replace a separate webcam. Fortunately, the role of the alternative is not bad and the iPhone.
How to use iPhone as a webcam for your computer
Using an iPhone as a webcam will require a special application to be installed on your phone and computer. Unfortunately, iPhone does not support this feature "out of the box", so to implement it, you will need third-party software.
We have tested several applications and reviewed the reviews on them. As a result, there are two options: EpocCam (for iPhone, iPad, Windows, and Mac) and iVCam (for iPhone, iPad, and Windows). Both products can be classified as premium with numerous free options, it is possible to try the functionality of the program before purchasing it. Supported versions are Windows 7, 8, and 10.
In addition to the Mac and PC versions, EpocCam also offers three iPhone versions. The free version has restrictions, the high-resolution version costs 599 rubles, and the version for 1,490 rubles is designed for professionals who want to use several cameras. The free version is limited to a camera resolution of 640 × 480 pixels and applies a watermark on top of the camera image.
iVCam works almost identically, but only the Windows version is available. The iPhone app and related software can be downloaded for free. The free version of iVCam supports HD resolution but also has a watermark on top of the video stream. You will have to pay RUB 749 to remove this picture by purchasing the application.
Both of these applications allow for both wireless and USB connections. You can choose front or rear cameras, use different lenses, and even turn on the flash on your device to better illuminate the scene. If you decide you like an app and want to unlock the full version, both are relatively inexpensive (599 rubles and 749 rubles) in terms of average webcam quality.
There is also an application called iCam (379 rubles). Unfortunately, you won't be able to test it before purchasing it. The program is also based on UPnP for a wireless connection, which may not work with all routers. Another solution is NDI|HX Camera, a free application for video producers. However, this program may seem complex to most users.
Whichever application you choose, you will need to leave it running and open on your iPhone screen, which will act as your webcam. Once the iPhone app is installed and configured, you will need to go to the video conferencing app settings on your computer, where you will need to select a virtual webcam as your video source device.
Tips for using the iPhone as a webcam on your computer
A wired connection will always be better than a wireless one. If you want the most reliable solution for your webcam, turn off the wireless connection and choose the USB connection. Both of our selected applications support USB connection. If you're not walking around the house while chatting, using Wi-Fi doesn't make much sense.
If you want to use your iPhone as a webcam, you will also need a way to place it in a stationary position. The best solution is a tripod for your smartphone or an existing standard tripod.
The universal spider tripod mentioned above is perfect for this because you can install it almost anywhere.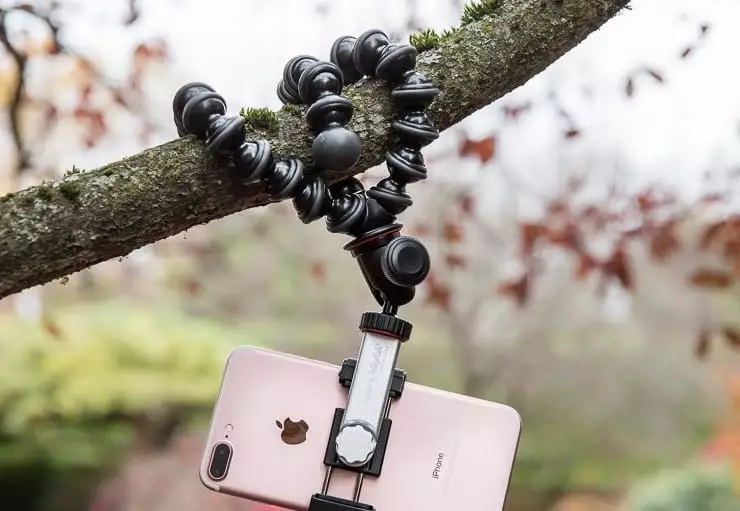 In case you already have a tripod, but only the smartphone mount is missing, pay attention to this option.
Both applications allow you to use a rearview camera, which you should definitely use. Not only can you use the flash if necessary, but the iPhone cameras on the back panel are much superior to the camera for selfies.
You can use EpocCam and iVCam for sound capture as well, but that would not be a good idea. Earphones are a good accessory, but a quality desktop microphone will sound 10 times better. We advise you to adjust the lighting (even with a desk lamp) before you make a call to make sure your face doesn't get too darkened (in detail).
Using your iPhone as a webcam will discharge the battery. If you are not using the USB connection (which also charges your phone during the chat), make sure that your smartphone is plugged into an outlet.