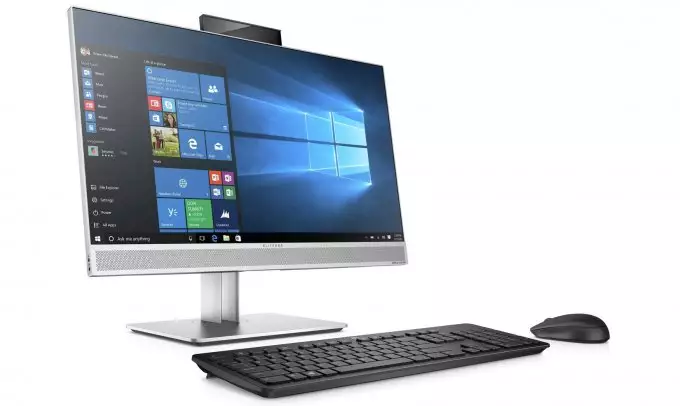 Most modern monoblocks can not boast of high processor power and serious amounts of memory. Such a solution was considered the best compromise for those who want to save space on the desktop. However, now everything has changed – the design engineers of HP have given their new desktop EliteOne 800 G3 not only a stylish design, but also high performance.The new candy bar is aimed at users who do not want to buy a gadget whose appearance is inferior to quality. This is a business class device for those who are looking for an elegant all-in-one computer with powerful hardware. Particularly attractive EliteOne 800 G3 give a barely noticeable frame at the edges, they visually increase the already large display.
IPS format monitor with a diagonal of 23.8 inches will please with FullHD resolution. Users are offered both an option with a classic touch screen and a version equipped with a tactile panel. The choice depends solely on the personal preferences of the buyer. The candy bar is also endowed with two Web cameras of 2 megapixels each with microphones and infrared sensors. The front camera is retractable, it hides inside the desktop body, without violating its aesthetics. Supports Windows Hello technology, which recognizes faces. With its help, the owner can unlock his computer, which means – to protect confidential and personal data.
Users can choose from four options for the seventh-generation Intel Kaby Lake processor. In the top configuration, this is an ultra-powerful Core i7-7700 chip. Monoblocks use different drives with capacities from 128 GB to a record terabyte. You can safely call the technical capabilities of new items impressive. The amount of RAM reaches 32 GB DDR4-2400. The initial version of the EliteOne 800 G3 offers an integrated Intel HD 530 graphics card, which, if desired, is changed to Intel HD Graphics 630/610 or AMD Radeon RX 460 GFX (2 GB).
Monoblock is made according to the MIL-SPEC 810G standard, therefore it is protected from dust, vibration, shock and falls. Bang \u0026 Olufsen's loudspeaker is integrated into the sound, mounted in a thin frame under the screen. In the presence of Display Port and HDMI, USB 3.1 Type-A and USB-C, RJ-45, card reader and audio output. It is possible to connect additional monitors on the sides. The HP EliteOne 800 G3 has dimensions of 53.96 x 5.38 x 34.18 cm and weighs 6.03 kg. The new product is running Windows 10 Home or 10 Pro. The cost of a monoblock in the basic configuration is $ 1049.