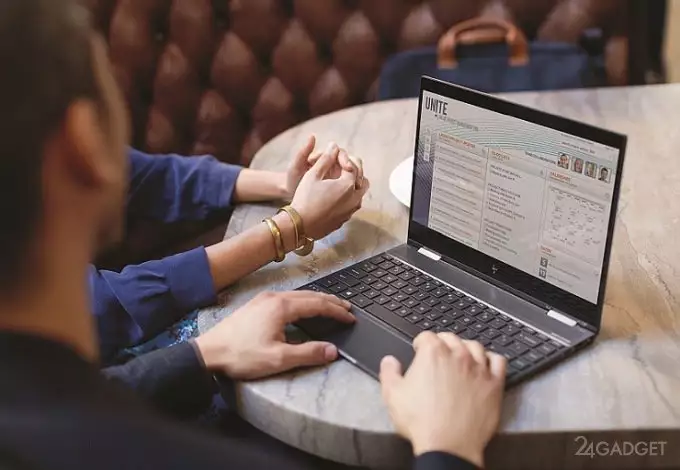 Hewlett-Packard has unveiled the new ENVY Series notebooks that are targeted at the consumer market. The models debuted: ENVY x360 15, ENVY x360 13, ENVY 17 and ENVY 13. Portable computers ENVY x360 15 and ENVY x360 13 are transformers that are equipped with monitors with a diagonal of 15.6 and 13.3 inches, respectively. The cover of each of them can rotate all 360 degrees. This option allows you to use gadgets in tablet mode.
The younger version was equipped with Radeon Vega graphics and an AMD Ryzen processor. The older model has options with an Intel and AMD processor. Transformers also added a backlit keyboard, USB 3.1 Type-A and USB Type-C ports, a Bang \u0026 Olufsen audio system and a smart enough adapter for Wi-Fi wireless. In some versions, you can select the Intel Optane memory module. The available HP Fast Charge feature recharges your battery by 50 percent in 45 minutes. The HP ENVY 13 is a classic laptop. It was equipped with a monitor with a diagonal of 13.3 inches and a resolution of up to 4K / UHD, as well as a quad-core processor of the eighth generation Intel Core. In addition, a hard drive and a solid state drive are offered. Optionally, you can install the graphics accelerator model NVIDIA GeForce MX150. RAM can reach 16 GB. Audio system from the brand Bang \u0026 Olufsen. When fully charged, the gadget will run for up to 14 hours.
The ENVY 17 laptop has similar specifications. True, it was equipped with a screen with a diagonal of 17.3 inches. You can install a modern memory module model Intel Optane. Without recharging, the device will work for almost 11 hours.
Selling all new items will begin this month. The cost of the basic configuration of ENVY x360 15, ENVY x360 13, ENVY 17 and ENVY 13 will be 750, 760, 1050 and 1000 US dollars, respectively.