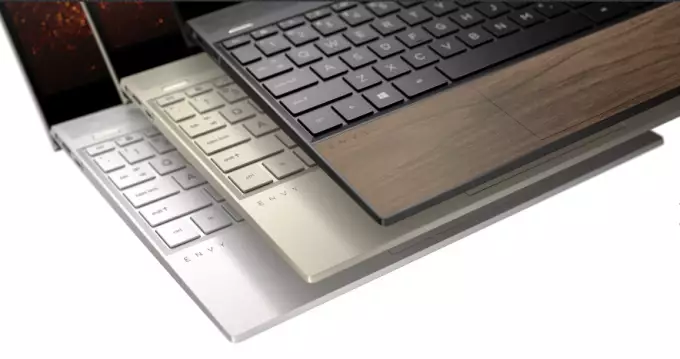 Competition among manufacturers of computer equipment forces them to constantly work on improving their products both technically and in design. HP presented new laptop computers at the annual Computex 2019 exhibition. The HP Envy Wood notebook line captivated potential buyers with a new design, which differs from the design of previous designs in that manufacturers used natural wood in the design.
The entire HP Envy Wood line in the design contains inserts made of natural walnut, white birch or pale birch, depending on the color of the case itself. These are the models HP Envy 13, HP Envy x360 13, HP Envy x360 15 and HP Envy 17. Next-generation Intel Core processors or second-generation AMD Ryzen mobile chips, AMD Radeon Vega graphics cards are the innovations that make Envy laptops attractive in technical characteristics. The release of these HP laptops is slated for fall 2019. Then their price will be determined.
Of particular interest at the exhibition was the HP Elite x2 G4 tablet computer, made in two versions with a 12.3- and 13-inch screen, equipped with a leather keyboard or a keyboard, which is equipped with a leather keyboard. These PCs display resolution from 1920×1080 pixels to 3000×2000 pixels, they have anti-reflective coating and a record brightness of 1000 nits. The equipment of the HP Elite x2 G4 includes: a processor up to Intel Core i7-8665U, up to 16 GB of RAM, an SSD-drive up to 2 TB, Wi-Fi 6, Bluetooth 5, two Thunderbolt 3 ports, a SIM card slot and Full HD selfie camera with shutter and infrared module for biometric identification. The weight of the tablet without a keyboard is 816 grams, with a keyboard cover, the weight increases to 1.2 kg.
The timing and pricing of the HP Envy Wood line of laptops have not yet been determined by the manufacturer. The new HP Elite x2 G4 will be released in August at a price of $ 1,499.
, liliputing.com