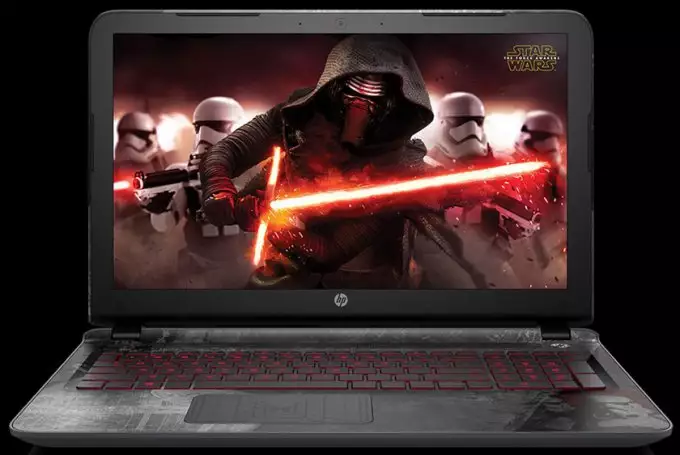 Star Wars fans should really like the HP Star Wars Special Edition laptop, which is based on the Pavilion line. The manufacturer approached the styling very responsibly and paid great attention not only to the box and the appearance of the device, but also to the details with accessories. When you turn on or off the USB, the laptop makes R2D2 sounds or lightsaber. The basket icon is made in the form of a Death Star, which is in general condition when the basket is empty and destroyed in case of overflow.
An imperial stormtrooper flaunts on the keyboard, Darth Vader on the lid and optional wireless mouse; on the hinge there is the inscription \All owners will have access to a huge database with various shooting materials, exclusive and classic photographs, backstage materials and so on.
We also paid attention to the packaging: in addition to the fact that the box itself is stylized in accordance, the box from the power supply is decorated with Darth Vader and it is ideally sized for storing collectible figures. And the most fun: the foam in which the laptop is packaged has a profile in the form of TIE Advanced x1.
The laptop is equipped with a 15.6-inch FullHD-display, optionally touch. Inside – Intel Core i5 and i7 Skylake processors, up to 12 GB of RAM, discrete graphics NVIDIA GeForce 940M are optionally available. A hard drive with a capacity of up to 2 TB is used as a drive. The laptop features a Bang \u0026 Olufsen audio system and a red keyboard backlight. A pre-order is open for the laptop, the price starts at $ 700, a mouse and a cover in the same style will cost $ 40.