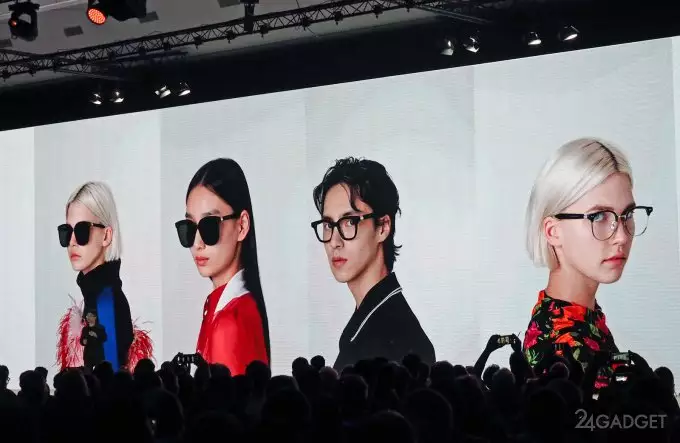 The most original accessory presented by Huawei, experts called the elegant "smart" glasses X Gentle Monster EyeWear. In addition, the manufacturer released FreeLace wireless headphones and an updated line of Smart Watch Watch GT.
Smart glasses may turn out to be a very promising alternative to a wireless headset. The gadget has speakers, 2 microphones, a Bluetooth module and a battery. The speakers are placed so that the user hears the sounds around, while others do not hear any sound from the headphones. The microphone system can determine the direction of the voice during a conversation and cut off extraneous noise.
According to the manufacturer, the glasses will allow users, without blocking their ears, to talk on the phone and listen to music. Apparently, speakers working through bone conduction were used. By clicking on their bow (there are no buttons on the case of the Huawei X Gentle Monster EyeWear), you can pause the music or accept the call. The 2000 mAh battery is charged wirelessly or via USB Type-C in a special case. The glasses were created in conjunction with the Korean brand Gentle Monster. There are different types of design, as well as transparent or sun glasses. It is protected against water and dust according to the IP67 standard. Sales of new items will start in July, nothing is known about the cost of the gadget.
The range of smart watches has been complemented by a classic look model Watch GT Elegant and sports Watch GT Active. The display of the first is offered only in the 42 mm version. One full charge is enough for the device for a week of work (in the previous version, autonomy was at the level of 2 weeks). Bezel products made of ceramics. There was a fresh firmware with new dials. In a GT Active watch, one charge is enough to work for 2 weeks at 1.5 hours of training per week and working heart rate monitoring. The straps are only practical, made of resistant elastic materials. The watch has a design similar to the previous version of smart watches: a 46-mm case with a 1.39-inch OLED screen. GT Elegant will cost 229 euros, and GT Active – 249 euros.
FreeLace wireless headphones are another new addition from Huawei. Their main feature is the ability to detach one part. At the same time, a USB Type-C cable appears, connected to the smartphone to recharge. The gadget connects to the main device via Bluetooth. On one charge, you can listen to 18 hours of music. They will start selling them in April for 99 euros.