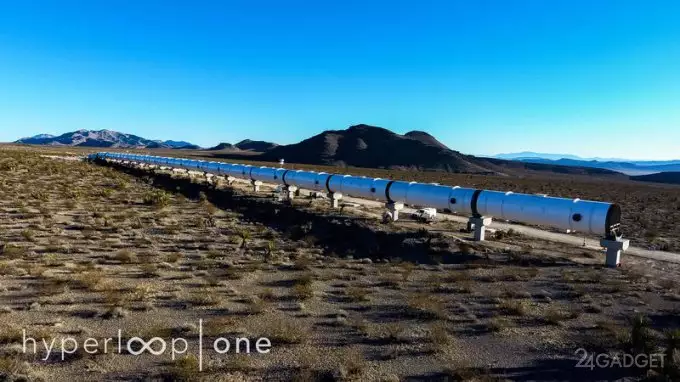 Hyperloop One has published photographs that demonstrate the progress of the DevLoop test line. The track is a closed overhead tunnel-pipeline with a diameter of 3.3 m. It is intended for the implementation of the vacuum train project. Perhaps moving ground vehicles at the speed of sound will soon become a reality.
The length of the test line is half a kilometer, the vacuum train must complete it in just two seconds. Already in this half year the first tests should be carried out. The track itself is located in the Nevada desert, half an hour from Las Vegas. If the project is implemented, passengers will be able to cross the desert in special capsule wagons within a few minutes.
The author of the idea of creating vacuum ultra-high-speed trains is Elon Musk. Currently, several companies are working on his idea, including Hyperloop One, which has chosen the European direction for itself. Its main competitor is Hyperloop Transportation Technologies, however, this company is focused on the Asian continent and the United States. Hyperloop One has recently experienced a very difficult period. A few months ago there was a conflict between top managers, one of the directors Brogan Bembrogan quit with scandal. Litigation between the current and former management lasted for many months and ended only by the end of 2016. Experts suggested that these events would undermine the company's operations. But, as can be seen from the latest news, backed by photos, Hyperloop One continues to build a test highway, so their fears can be considered groundless.