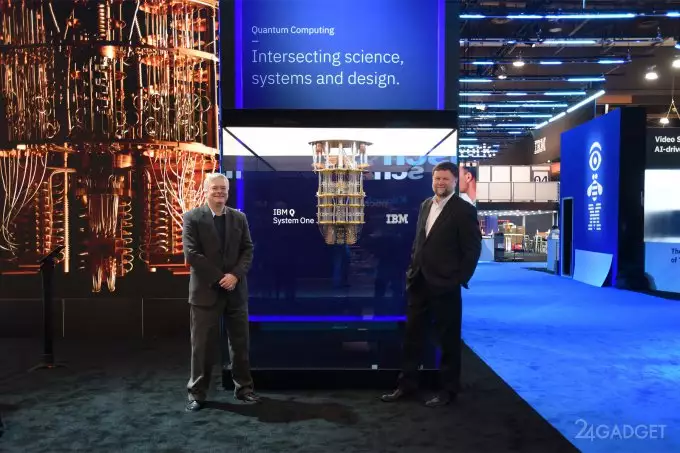 Advances in computer technology ahead of the wildest predictions of science fiction writers. More recently, the emergence of quantum computers could be read only in highly specialized technical literature. However, already at CES 2019 in Las Vegas, IBM demonstrated the first model of the prototype quantum computer IBM Q System One, capable of working outside the development labs.
20 qubit IBM Q (qubit is an element for storing information in a quantum computer, in modern computers it is a binary system) is an "integrated universal computing system" suitable for both scientific research and commercial use. The developers did not disclose the technical characteristics, since the quantum system is at the stage of constant refinement and improvement. However, it is known that a gigantic amount of information will be able to process a computer at a speed incomparable with modern computer centers.
According to experts, this first development does not yet make quantum computers public and widely applicable. By the way, users of blockchain networks and bitcoin owners are also too early to worry, the presented computer will not be able to crack the cryptography embedded in cryptocurrencies.
At the IBM exhibition, it was enclosed in a hermetic glass cube with 3-meter faces, 12.7 mm thick borosilicate glass walls. Inside there is a processor, control modules and a cooling system that maintains a temperature close to absolute zero. You can use a quantum computer remotely after you enter into a lease. However, the TechCrunch online publication has suggested that the IBM Q System One is not powerful enough for many projects. Russian experts, in turn, reacted to the demonstration of a quantum computer as an important step for the world of technology and computing, but the exhibit displayed at the exhibition was not recognized as a final work product, but rather as a props. In any case, it just won't work out to buy IBM Q, it won't appear in retail, and you will have to cooperate with a manufacturer who promises the ease of working with a quantum computer and its upgrade. Geographically, the machines themselves will be deployed by IBM in a suburb of New York, among many of the same Q System One.
, techcrunch.com, engadget.com, iz.ru