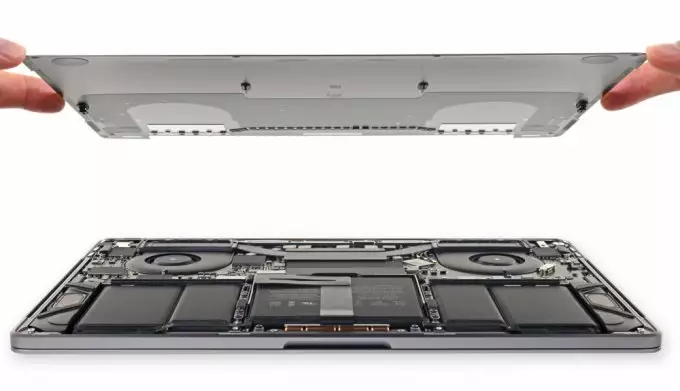 Just a few days passed from the announcement by Apple of the brand new MacBook Pro, as in iFixit managed to get to the filling of the 13-inch model. The guys tested it for maintainability.
According to the masters, the laptop case is disassembled without problems. Easy and remove the battery screwed to it. By the way, the battery capacity from 49.2 Wh has increased to 58 Wh. Her weight also increased (by 36 grams). The dimensions of the built-in speakers have changed, they have become longer and narrower. There was also an Apple T2 chip, responsible for the operation of Siri's voice assistant and safe boot of the OS. The fingerprint scanner Touch ID is located on the motherboard with T2, and therefore, if they break, a full replacement of the motherboard will be required.
As it turned out, the updated USB Type-C charging is made of plastic. Recall that in previous models it was made of metal. The keyboard with the butterfly mechanism, as we wrote earlier, was protected by a silicone pad from debris and dust.
iFixit Wizards gave the brand new Apple MacBook Pro 13 only 1 point out of a possible 10 on their maintainability scale. They rated it so low, since it is problematic to repair parts separately: since they were soldered on the board, it is almost impossible to replace them. IFixit only positively appreciated the ease of disassembling the battery and trackpad.