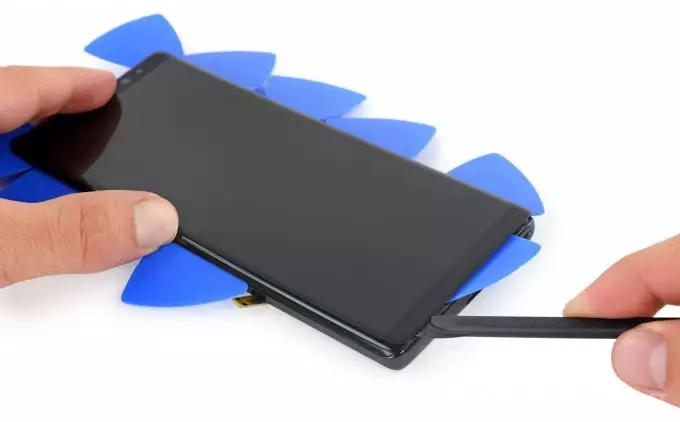 Specialists of the iFixit repair shop, specializing in modern electronic devices, conducted a thorough analysis of the maintainability of the flagship smartphone Samsung Galaxy Note 8 in order to find out how time-consuming and feasible to repair it.
A positive factor during the disassembly of the smartphone, the masters called the removable USB Type-C port, the use of special standard Phillips screws and the modular assembly principle of Note 8, which allows you to change its individual parts as they fail.
Negative or controversial moment, the repair experts called the difficult process of disassembling the case covered on both sides with Gorilla Glass 5. When opening the device, the case had to be warmed up and a plastic blade was used, which led to loss of pressure and the smartphone lost water protection and dust. There were also difficulties in removing the battery, which was securely glued with a large amount of adhesives.
It should be noted that the maintainability of 4 points out of 10 possible assigned by the Samsung Galaxy Note 8 is significantly greater than the possibility of repairing the new Essential Phone smartphone from Andy Rubin, which was estimated by the same specialists, equal to one.