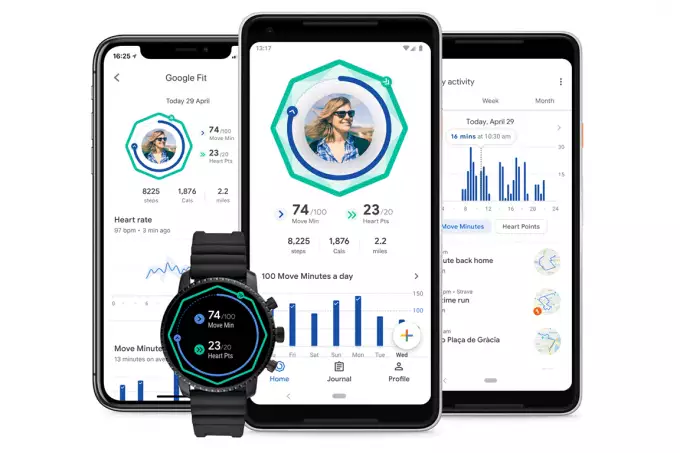 For the fitness service Google Fit, the manufacturer completely redesigned the mobile application. Google decided not to get attached to the number of steps that a user measured in a day. From now on, other activity indicators have been launched. They were developed in accordance with the recommendations of the World Health Organization and the American Heart Association.
Now Google Fit has two main metrics. Move Minutes are minutes spent in motion. And Heart Points – points that the user receives for serious physical exertion. Heart points are earned even when accelerating the pace of walking. Moreover, during grueling training and running, the result doubles. This should motivate people to active sports.
Cards will also appear in the application informing users about the positive effects of an active lifestyle on health. According to Google, half an hour of walking 5 times a week is already enough to reduce the risk of heart disease. And also contribute to improving the quality of sleep and mental state in general.
Progress will be shown in the form of rings filled in during the day. The system is similar to technology that tracks Apple Watch activity. True, they provided for a third ring for warm-ups. In the Google version, as soon as the goal is reached, the circle becomes an octagon. And thanks to the animation, it also becomes like a gem. That was exactly the idea of the developers.
Move Minutes takes into account not only steps, but also any activity. Heart Points are especially convenient for tracking with Wear OS smart watches equipped with a heart rate monitor. However, the technology can also use sensors built into the smartphone, for example, GPS and an accelerometer. You can enter data manually. The development integrates with third-party fitness services. Google Fit automatically determines your starting goals. If the user achieves more, the platform adjusts the tasks.
The manufacturer tried to make its service friendly for beginners. At the same time, the functions familiar to his fans were preserved. You can still collect statistics on different types of activity: running, walking, cycling, etc. In the coming days, Google Fit will be updated for Wear OS and Android. On the iPhone, the update can be found in the official Wear OS app, in the Fit section. However, this is relevant only for users of watches on the platform from Google., Engadget.com