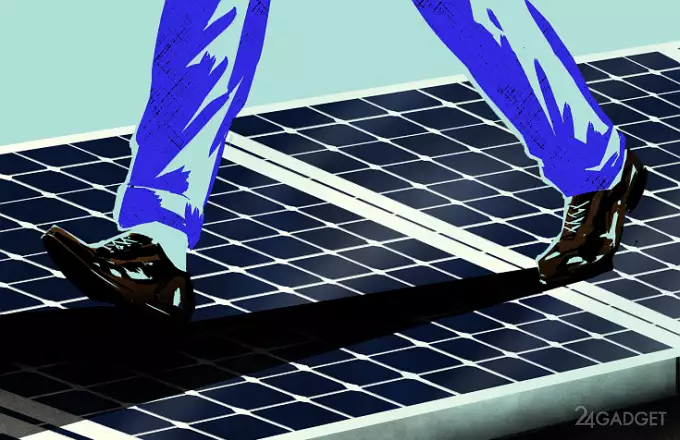 At the beginning of the summer of 2017, in June in the Canadian city of Kamloops (British Columbia) the first pavement in the world will be opened, generating electricity using solar panels. Developers from the local Thompson Rivers University claim that a "sidewalk solar power station" will generate up to 15,000 kWh of electricity per year. Such power is enough for uninterrupted operation of 40 computers during an eight-hour working day all year round or to meet the annual electricity demand of 1.5 average houses in the USA.
Solar Compass solar panels will be mounted in the pavement in front of one of the Thompson Rivers University campuses. Tiles measuring 1×2 meters in the amount of 64 pieces will cover an area of about 111 square meters. Structurally, each tile consists of 50 solar modules, and the function of converting DC to AC is assigned to 32 microinverters. The particularly durable surface of the solar module is capable of supporting not only the weight of a person, but also a fire engine.
Solar panels are manufactured by Solar Earth Technologies (Vancouver), specializing in the production of special pavement capable of generating electricity from the energy of the sun. The service life of the coating is 25-30 years. In an interview with the local Vancouver Sun, Michael Meht, lead of the Solar Compass project, said the cost of the new generating plant is relatively low. The installation of the equipment is quite simple, and the equipment itself does not differ in technical complexity and high price: small converters (micro-inverters), the size of a smartphone, are combined by electrical wiring into a single circuit and the station is ready for operation. Almost always accessible to sunlight, sidewalks can be an excellent source of electricity, which will open up enormous prospects for the energy industry, according to Solar Earth Technologies. Further development of Solar Compass technology in the future will allow solar power plants mounted on roads and sidewalks to provide not only street lighting, but also provide energy for communications.