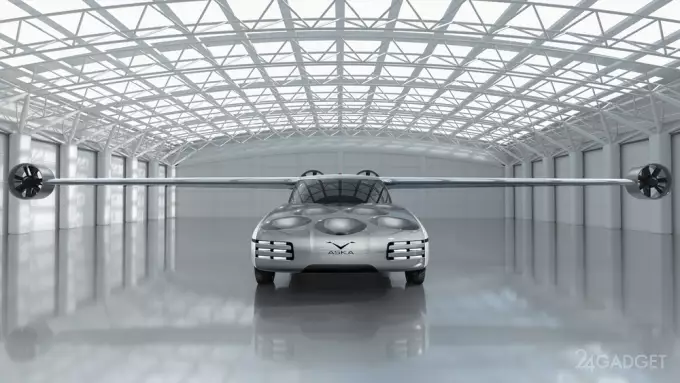 Designing cars that can move with equal efficiency on land and in the air is one of the most urgent tasks for the modern automotive industry. The joint US-Israeli venture NFT presented another conceptual solution to the Aska flying car.
Aska uses a hybrid engine powered by electricity and gasoline to drive, and will be able to take off and land vertically. When moving on the ground, the wings of a car fold and the car turns into a regular SUV.
When preparing for take-off, the wings are laid out, and at the same time 10 channel fans are opened, mounted in the car body. Two more fans are located behind and one on each wing. To take off Aska, you need a 20 by 20 meter platform. After takeoff, four fans (on the wings and located behind) are moved to a horizontal position, which allows the car to move in a horizontal plane. After landing, the wings fold. The hybrid energy system provides Aska movement up to 560 km. The company's plans include the development of cars equipped with an autopilot, and capable of carrying three passengers. The autopilot will be equipped with an artificial intelligence system.
The cost of a hybrid flying car will be high enough for retail. Therefore, NFT involves the implementation of a subscription service, when for a monthly subscription fee the client receives one car for use at any necessary time. Full-size prototype Aska will be announced at the beginning of 2020.