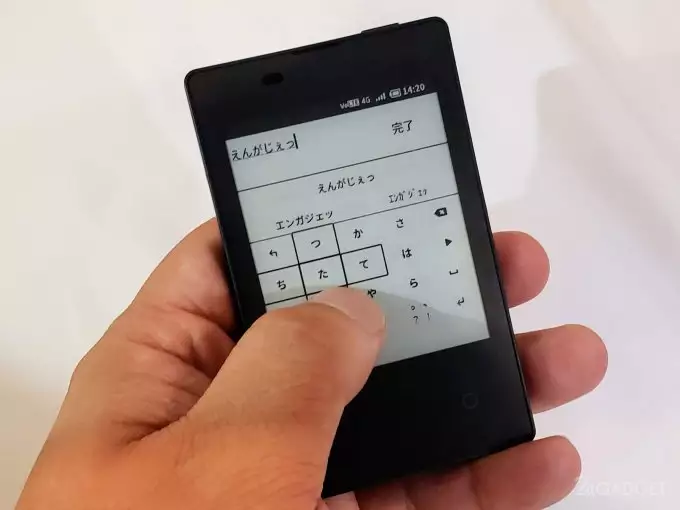 DoCoMo, one of the largest telecom operators in Japan, has announced Kyocera Card Keitai. The screen of the novelty is made by E-Ink technology, which is usually installed in electronic readers. The company claims that this is the lightest phone, it weighs only 47 grams, in thickness it is also close to a record, this figure is only 5.3 mm. The general physical parameters are 91x55x5.3 mm, and this makes it easy to place the gadget in a wallet or in a small pocket of trousers.
The resolution of the 2.8-inch monochrome touch screen is 600 x 480 pixels. This gadget does not have most applications, it is just a basic phone with a minimum set of useful functions. However, it does support 4G LTE networks. Of the remaining functions, we note the presence of SMS messages, an Internet browser, a contact list, a calculator, and a clock. Unfortunately, there is no e-book reader in this minimalistic device.
Inside the cardphone there is a Snapdragon 210 processor, 1 GB of RAM and 8 GB of internal memory, the battery capacity to match the functionality is 380 mAh. But taking into account the minimum energy consumption of a monochrome screen based on electronic paper, this indicator should be enough for a long time. Protection against water ingress is minimal – IPX2. The device's camera, unfortunately, is missing. The novelty works on a proprietary OS without an app store.
Kyocera Card Keitai will be released this November for $ 280 and will be exclusive to DoCoMo, so the supported language is Japanese only. Note that the thinnest smartphone is still Moto Z with a body thickness of 5.2 mm from the 2016 release.
, theverge.com