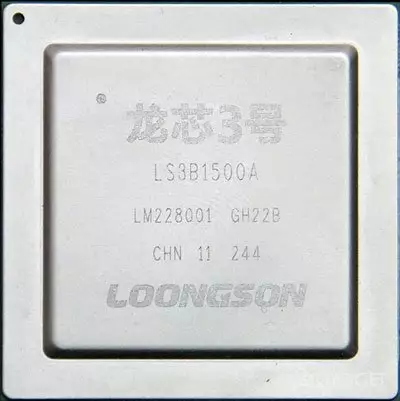 About four years ago, a leading Chinese processor developer, Loongson (Godson), said they needed another 20 years to catch up and overtake Intel. The time limit has not yet been exhausted, but progress is already noticeable. In any case, the latest third generation conditional Loongson processors are already competing successfully with AMD products on Vishera architecture. Imagination posted a blog post from one event demonstrating the capabilities of Loongson-3A2000 and 3B2000 processors on the new GS464E architecture. These are four-core processors with 9-level pipelines with direct order of instructions, with two blocks for processing floating point operations, with an integrated memory controller and a new interprocessor interface. At the heart of the Loongson processors, recall, is the MIPC64 architecture. Since MIPS with all the developments was acquired by Imagination two years ago, Loongson processors are a kind of advertising for the British developer.
Loongson processors translate MIPC64 instructions to x86-compatible and vice versa. This takes part of the processor power, but it makes it possible to avoid the costly and problematic licensing of x86-compatible architecture. Taking into account the vast market of China, this is a huge cost savings, as well as protection from bookmarks, which is no less essential for the national security of this country. To clarify, there is no detailed information about the new processors. Loongson-3A2000 models will be used for the release of desktops, laptops, routers and in the form of DSP. 3B2000 models will become the basis of servers in configurations of 8 and 16 cores.
More is known about the Loongson-3B1500 processor. This is an eight-core processor with a frequency of 1.5 GHz, manufactured using the 32-nm process technology. With a peak consumption of 30 watts, the solution is capable of delivering 192 gigaflops. As the internal tests of the developer show, even the quad-core Loongson-3A2000 processor successfully competes with such an eight-core AMD processor as the FX-8320 (3.5 / 4.0 GHz) with a TDP value of 125 W damage. Also in 2016, the developer plans to release the 3A3000 and 3B3000 models using the 28-nm process technology and with a frequency of up to 2 GHz.
It is expected that in the near future Loongson will become Asia's largest provider of computing solutions for embedded applications. Currently, products based on Loongson processors are actively used by Sugon Information Industry, China Aerospace Science and Industry, Tsinghua Tongfang, Neusoft Corp. and Ruijie Networks.It is worth recalling that the Russian Elbrus processors work on a similar principle. They were less fortunate than the Chinese decisions. The nineties of the last century, like many other skating rinks, went through this development. Fortunately, in recent years much more attention has been paid to the development of domestic products. So the hope for the development of the industry and products remains.