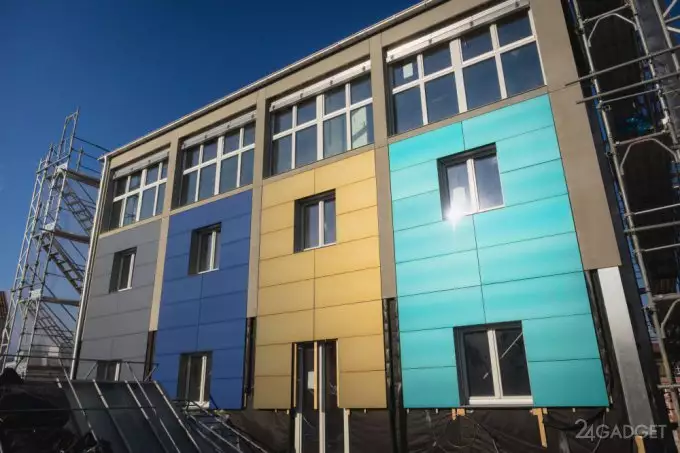 The problem of saving energy resources, the use of high-tech elements in architecture and popular renewable energy sources was solved by the manufacturer of solar panels Emirates Insolaire. The color panels created by engineers with Kromatix glass allow decorating the walls and roof structures while receiving additional electric power.
The Kromatix panels are made of photovoltaic colored glass. According to Rafik Hanbali, one of the founders of Emirates Insolaire, innovative solar panels do not differ in performance from standard ones. They are easy to install, have a sufficiently high efficiency, have an attractive appearance and can be used to decorate buildings. Kromatix glass is virtually indistinguishable from standard cladding material. Only upon closer examination can we understand that these are solar panels. The new glass is already being used by Avancis, Solibro and SunPower to produce solar panels.
Using colored glass slightly reduces the efficiency of solar panels. Emirates Insolaire offers the consumer a choice of glass colors with acceptable characteristics. The drop in panel efficiency is in the range of 10 to 15 percent, depending on the color of the glass.
Using colored glass helps create unique design solutions. Rafik Hanbali spoke about the lining of the walls of the Copenhagen International School, standing on the seashore. A visual effect has been created, as a result of which only windows not covered with panels are visible in the reflection on the water. Photovoltaic modules made of crystalline silicon almost completely absorb light, without giving even glare on the water.
Emirates Insolaire has found a successful solution that combines the best price, great designer look and high energy efficiency. Standard homeownership in the US consumes 330 watts. One panel costs from 81 to 94 dollars per square meter. A 5.5 kW installation pays off in a year and a half. When ordering panels with a total capacity of more than 1 GW, the cost of the material is reduced.