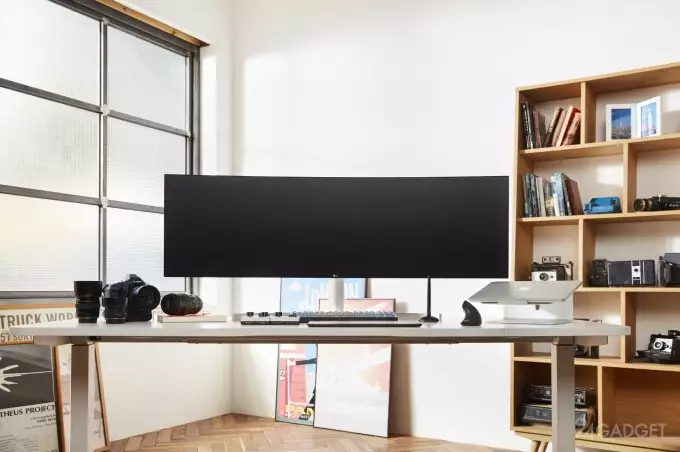 The CES 2019 season is open ahead of schedule by LG. The manufacturer has already introduced the new UltraWide Monitor. The diagonal of these monitors is really ultra wide.
Two new year models LG's UltraWide will come in two sizes. Both of them are outwardly unusual for consumers. The option with a diagonal of 49 inches, the aspect ratio is 32: 9, and the resolution, by default, is 5120 x 1440 pixels. The diagonal of the second version is 38 inches, the aspect ratio of the model is 21: 9, the resolution is 3840 x 1600 pixels. Monitors are supplemented with a standard set of ports: USB-C, USB 3.0, DP and HDMI. As you can see from the photos already published on the network, the width of the 49-inch version is simply incredible. It seems that the monitor consists of several panels, although this is, in fact, one screen, but very long. New features include Picture-by-Picture mode for viewing content from multiple sources and working with programs at the same time. The UltraWide Series monitor covers 99% of the sRGB color space and features HDR10 format functionality.
LG's UltraGear gaming monitor will also appear. The refresh rate is quite high – up to 144 Hz. The model will support Nvidia's G-SYNC technology. Thanks to this, it will become faster than analogues, which is important for gamers. The remaining characteristics are as follows: a curved frameless display with a resolution of 3840 x 1600 pixels, an aspect ratio of 21: 9 and a coverage of the DCI-P3 color palette by 98%.
The manufacturer willingly shared a number of details about its new products, without waiting for the CES 2019 exhibition. However, it is still unknown whether LG standard models will have to make room. Given the specifics, there is the possibility of a fairly high price for new models. All the details we will find out at CES 2019.