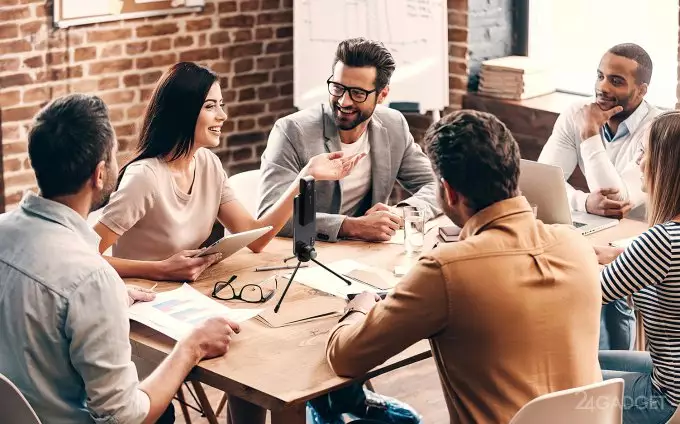 Do you like high-quality, beautiful photographs with 360-degree panoramas? You can breathe easy by stopping the search for a suitable gadget. Insta360 has released an accessory for Apple-branded smartphones called Nano S. A new model of a stand-alone camera is attached to the iPhone and shoots in the desired mode. And it works for both audio and video.
What are the benefits? You can safely put the camera in your pants pocket, jacket, handbag and not worry about its safety. The dimensions of the camera version of Nano S are compact: 110x33x21 mm and weighs 66 g. This is especially true for travelers trying to take less heavy and voluminous objects on a trip.
A small stand-alone module, fixed in the main camera area of the iPhone, creates photos and videos very well, including in time-lapse mode. The resolution of panoramic shots from a 20-megapixel Sony camera with an f / 2.2 aperture is 6272×3136 pixels. The parameters of the videos created in 4K format are 3840×1920 pixels when shooting at a speed of 30 frames per second. It supports auto focus, manual exposure control, shutter priority or ISO (for photos and videos). The stabilization of the frame is based on the data obtained from the smartphone's gyroscope. There is a function of 360-degree video calls and many other interesting features.
The Nano S camera module can be activated using the Nano S app installed from the AppStore. This starts all the functions that are on the camera. Data is transmitted via Bluetooth LE 4.0. Data is recorded on a microSD memory card up to 128 GB. The Nano S also has nuances. The novelty is compatible only with Apple products: iPhone X, iPhone 8/8 Plus, iPhone 7/7 Plus, iPhone 6s / 6s Plus, iPhone 6/6 Plus. Insta360 does not create versions for Android smartphones. In addition, there is no protection against dust and water, which means that the product must not be used in the rain. The battery capacity of 800 mAh is enough for 60 minutes of battery life, Micro-USB 2.0 port is provided for recharging. The gadget is aimed at beginners in shooting panoramic scenes. Insta360 Nano S Cost: $ 239.