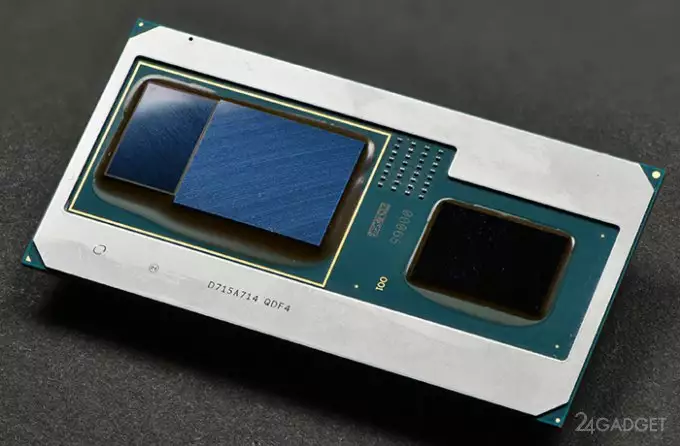 At the CES 2018 exhibition in Las Vegas, Intel introduced branded eighth-generation Core three-chip chipsets with AMD RX Vega M graphics. Despite their compact size and orientation on mini-PCs, lightweight thin laptops and 2-in hybrid systems -1 ", processors have tremendous performance. They are quite capable of competing with similar solutions used in gaming computers.
The new Intel chipsets with Kaby Lake architecture are three-chip, as they combine 4 GB HMB2 (High Bandwidth Memory) and Radeon RX Vega M (connected using EMIB technology), as well as the 8th generation Intel Core processor. The chipsets became representatives of the Intel Core i5 lines (one new model) and i7 (three new models). The Core i7-8809G and Core i7-8709G with a 100-watt TDP (heat sink requirement) received the Radeon RX Vega M GH graphics core (peak performance – up to 3.7 teraflops) with 1536 stream processors. Models Core i7-8705G and Core i5-8305 with 65-watt TDP – Radeon RX Vega M GL (up to 2.6 teraflops) with 1280 stream processors.
All processors from the Core i7 line got a base frequency of 3.1 GHz and a cache memory of 8 MB. For the Core i5-8305, these numbers are 2.8 GHz and 6 MB, respectively. According to official data, only the flagship model Core i7-8809G supports overclocking of HBM 2, GPU and CPU. According to Intel, on the basis of its processors it is possible to produce devices up to 17 mm thick with a battery life of up to 8 hours. The first models should be presented by Dell and HP at CES 2018, new items will be available for sale in the spring of this year.