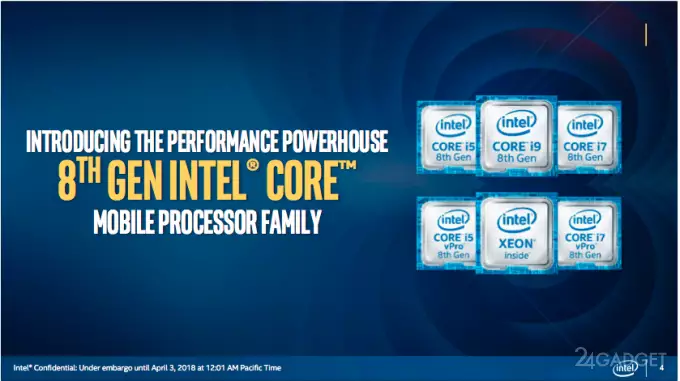 Today, Intel officially introduced the line of Core i9 processors for laptops, which belong to the eighth generation of Coffee Lake chips and are based on a 14-nm ++ process. The top of the lineup is called Intel Core i9-8950HK with six cores, divided into 12 threads. Due to the fully unlocked multiplier and Thermal Velocity Boost technology, the chip accelerates to 200 MHz at a frequency of up to 4.8 GHz with a nominal value of 2.9 GHz. At a standard frequency, the TDP is 45 watts.
According to statements, the Core i9 mobile processor will provide a performance increase of 29% compared to the seventh generation chips. New 59% faster to cope with the tasks of rendering 4K video and 41% better in gameplay when compared with the top Core i7-7820HK. Also, the new 8th generation Intel Core processors for laptops received Intel 300-series modems, which are responsible for providing Internet access Wi-Fi at speeds up to 1.7 Gb / s.
The first laptop with the top-end mobile processor Core i9-8950HK will be the updated MSI GT75 Titan laptop. How much it will cost is not specified.