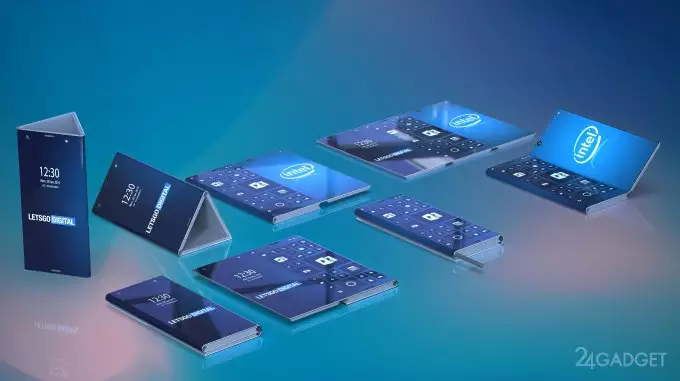 About Surface Phone talked for several years, but recently nothing was heard about him. Apparently, because Microsoft finally minimizes the mobile platform version of Widows 10 Mobile, and the company changed their minds to develop a flagship smartphone under their own brand. However, there was a chance to look at something similar from the partners of the famous corporation.
In any case, Intel has patented a folding device that can turn into a tablet, has a very attractive design and consists of three parts. The patent appeared in mid-2017. It describes a gadget consisting almost entirely of a frameless display. When folded, it is a smartphone, and quite chubby. Complete with a hybrid device comes a digital pen, neatly inserted into the hole on the bend. Cameras integrated into the screen. Experts have already visualized this idea. In the picture, the curving smartphone from Intel is presented quite clearly.
As they said last year, Microsoft worked on the concept of a pocket folding tablet, code-named Andromeda. It is possible that in a real product based on an Intel patent, software developments of this idea will be used. Of course, if he ever finds himself in the mass market.