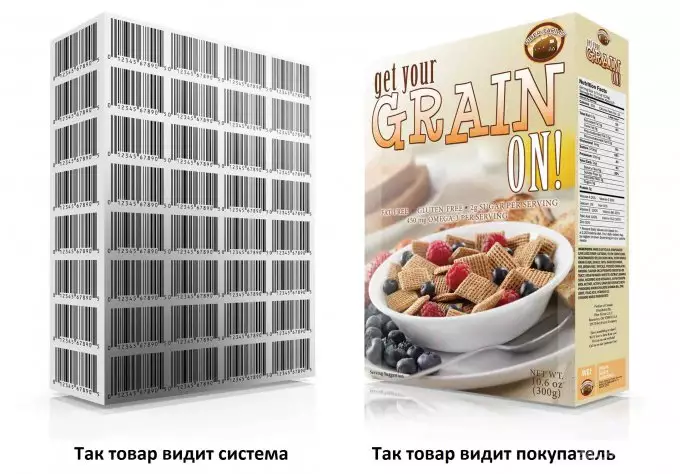 It is unlikely that there is now someone who underestimates the benefits of applying barcodes to the goods. This tag helps to account for and sell each item. By accessing various retail chains almost daily, we are convinced from our own experience how such an encoding reduces the time it takes to serve customers at the box office. However, over the next decade, European countries and the United States will introduce the latest technology for applying inconspicuous bar codes on products. The usual linear coding system was invented exactly in the middle of the last century. Since the 74th year she appeared in the trade. True, by now it is somewhat outdated. To replace it comes the technology of indistinguishable bar coding for the eye, according to which watermarks are applied to the goods. Its main advantage is the ability to label any product without restrictions, even if it does not have packaging, including fruits, vegetables, meat, cheeses.
It is curious that it is impossible to damage such a marking. Even if the package breaks, falls into fire or water, this will not interfere with reading the code. It is also important that customers will be able to read the code from the goods on their own using the simplest application on their smartphone. So they learn about the product all the manufacturer's data, composition, production date, special offers and promotions from the outlet, reviews and so on. Moreover, at the same time it will be possible to pay for goods with a credit card without wasting time on service at the checkout.
The technology by which a hidden barcode is applied is called GS1. It is based on an invention patented by Digimarc, a US company. The code cannot be seen with the naked eye. It is applied over the entire outer surface of the package. Due to this, it will be possible to scan it with special devices at any point in the goods and in any direction. The technique even managed to get into the Guinness Book of Records. Using it, a cashier in one American store managed to scan fifty of the goods in 48.15 seconds. The previous record set by the previous technology with the same number of items amounted to as much as 123.14 seconds. The technology of indistinguishable barcodes has already been successfully tested in the United States in the top three retail chains: New Seasons Market, Walmart and Wegmans. Now they have announced that over the next decade it will become fundamental not only in the States, but also in Europe.