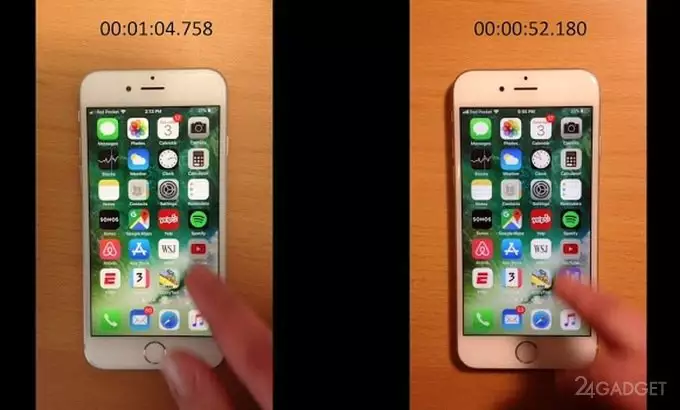 A video has been published on the Internet demonstrating how the speed at which the iPhone 6s works with slower performance and immediately after installing a new battery differs. A little earlier, the apple manufacturer confirmed the forced slowdown of old iPhones to reduce battery load. The latter were not able to maintain full charge, providing the required power. Currently, Apple is giving a discount on battery changes after the warranty period has ended. There has even been a video showing the difference between the iPhone 6s working with a new battery and the battery originally installed in the device, but forced software "braking". As the author of the video Bennett Sorbo assures, the review shows the same gadget, which was shot in two sets with an interval of a month. As can be seen in the plot, an enthusiast performed various operations, opening sites in a browser, launching applications, and so on.
The performance difference is large
It is best seen when opening information and graphics applications. In the Geekbench benchmark, the iPhone 6s with the original battery showed 2485 points in multi-core tests. With a new thing, he showed 4412 units. This test shows not a synthetic, but quite a vital load. So his results are not far from the indicators in real work. Now the manufacturer is busy with iOS 11.3 beta tests. In this version of the OS, deceleration can be disabled.
The new firmware version will also display the battery status, load on it and other technical information.  Practice has shown that this nuisance applies not only to the specified version. Journalist Zack Hall from the online edition of 9to5Mac tested the iPhone 6 Plus, on which iOS 11.3 beta was installed. He found out that if you turn off the slowdown, the gadget can turn off in the middle of the day.
His iPhone 6 Plus after fully charging showed 84% – this capacity is maximum for the old battery on the tester's smartphone. For several days of testing, the journalist noted that the device is prone to spontaneous shutdown, and at a plus temperature. So one of the days when the charge was at around 59%, Zach Hall launched a calorie-counting application during the lunch break. It started extremely slowly, and a few minutes later the gadget shut down completely. When I tried to turn it on, only the battery icon was shown on the screen (this indicates an extremely low charge). By charging the device, the author of the test activated software performance control. As a result, the speed of work naturally fell.