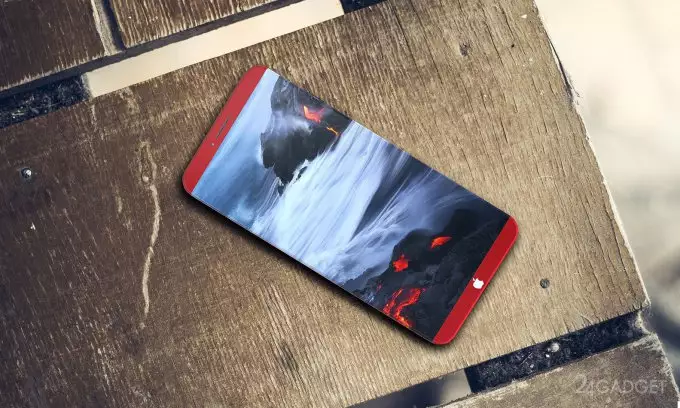 After the presentations of the Samsung Galaxy S8, LG G6 and Xiaomi Mi Mix, Apple developers will have to seriously think about the design of the next generation iPhone, which, most likely, will traditionally be released this fall. Competitors of the world's most famous flagship have proposed large frameless screens, against which the apple seven causes slight bewilderment and, despite the impressive technical equipment, seems morally obsolete.
Of course, Apple is interested in the potential success of the future iPhone, and therefore they should take a closer look at the concepts of independent designers, who, out of love for the device, give it all the functions that are important for the consumer. A video was posted on the DBS Designing YouTube channel, in which designers presented a possible smartphone of the eighth version.
In their view, this is a stylish thin metal device with a frameless 5.5-inch OLED-display QHD format, on the front panel of which there is only space for a 3D camera and an intelligent Apple logo with a fingerprint sensor. A system of two cameras (but already at 24-megapixel), not protruding above the surface of the panel, must necessarily remain behind. By the value of the aperture, the iPhone 8 modules should not be inferior to competitors – f / 1.7. Stereo speakers, as conceived by the author of the concept, are placed on two side faces of the smartphone.
The battery of the gadget, which will be available in five shades, with a capacity of 4000 mAh, is finally equipped with wireless charging technology. How much this version will come true, we will find out a little later.
, behance.net