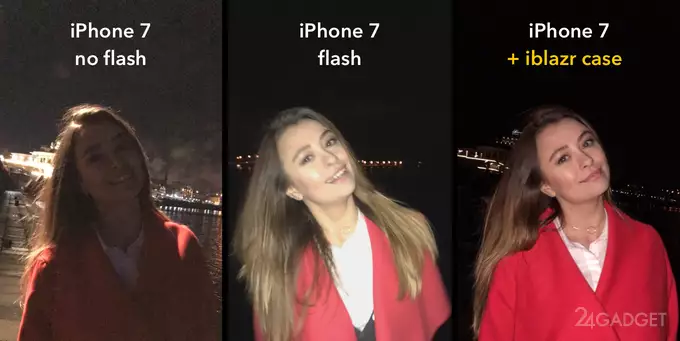 Startup Concepter has repeatedly managed to launch successful companies on Kickstarter with the launch of the finished commercial product in the form in which it was intended. And it all started a few years ago with an LED flash for the iblazr smartphone. The new brainchild of developers is the iblazr iPhone Case with built-in flash and auxiliary battery, designed exclusively for iPhone 6, 6 Plus, 6S, 6S Plus, 7, 7 Plus.
The flash built into the case consists of 40 LEDs with a brightness of 300 lux with an optical diffuser, and its operation is activated automatically when the smartphone's flash is turned on: the photodiode hidden inside the case captures the iPhone flash light and lights up all the LEDs for only 0.008 seconds. Also, the flash can serve as an indicator of alerts and be used as a flashlight. As the developers emphasize, the resulting light from the iblazr iPhone Case is 5 times brighter than from a smartphone without using an auxiliary accessory.
The 2500 mAh battery built into iblazr iPhone Case is designed to power the flash or recharge the iPhone (iPhone 6, 6S and 7 models can restore their battery charge by 100%, and iPhone Plus 7 by 80%). You do not need to remove the product to recharge it. Power occurs when the smartphone is charging from the network.
The case is made of plastic with a rubber coating and reinforced inserts on the edges in order to protect the user's smartphone from damage. The cost of the accessory on Kickstarter is $ 55.