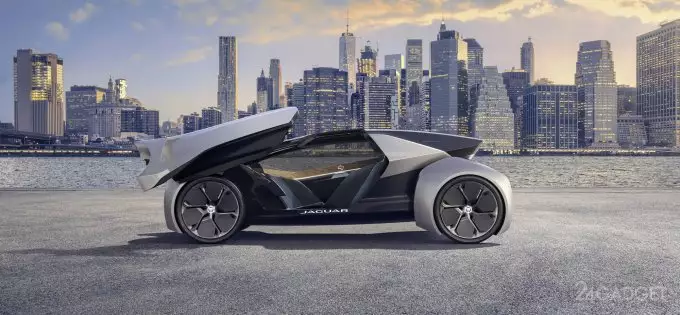 British carmaker Jaguar at the 67th International Automobile Salon demonstrated its vision of cars of the distant future in the person of Future-Type. According to the decision of the management, since 2020 the company will produce only hybrids and electric cars, and from 2040 completely new innovative models may appear on the market.
According to British engineers, it will be a fully autonomous car equipped with an electric motor, the basis of which will be a smart steering wheel with artificial intelligence Sayer, capable of responding to voice and, according to developers, to execute more than a hundred voice commands. A removable Sayer device will always be with the user.
Named after the famous designer Malcolm Sayer, designer of the E-Type coupe, the world's first AI wheel will become a "partner" of the car owner, remembering the usual routes, calling up the music or car. The vehicle itself will not be firmly attached to the owner. If desired and necessary, you can order a Future-Type model that meets the immediate needs of the owner. So, the standard Future-Type will have a 2 + 1 seating scheme, but if you need to take the child to school, you can order a model with two seats.
The compact design of a small autonomous car Future-Type fits perfectly into urban conditions, it will allow more convenient parking with a shortage of free space. On the move, the car "cooperates" not only with the owner, but also with other cars, providing a comfortable and safe ride. When switching to manual control, all active functions for tracking the situation on the road are saved and help the driver avoid accidents.