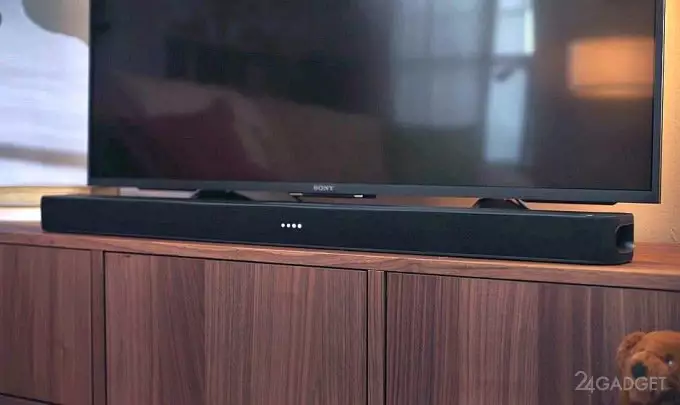 JBL and Google have demonstrated the new hybrid gadget JBL Link Bar, which is not just another set-top box, but also a real smart speaker.
The device has microphones that are constantly active and work over long distances. They are used to transmit voice commands to Google Assistant Digital Assistant. It doesn't matter where the television is installed in the room, in a huge hall or in a modest room. For JBL Link Bar to hear the command, just say "Hey Google". Thus, it is possible to control the set-top box even without the remote control, just voice is enough. Although support for remotes is also available.
The appearance of the JBL Link Bar is minimalistic: the mesh panel on the front and the matte black surface. The prefix will be in harmony with almost any interior. On the rear panel of the device there are three inputs and one HDMI output, you can switch between them using voice commands. The gadget also supports Ethernet, Bluetooth and Wi-Fi, has a USB Type-C, 3.5 mm audio jack, analog and digital optical audio inputs. The novelty supports Chromecast and Android TV, moreover, all sources operate simultaneously. Without stopping watching TV, you can use the Google Assistant and receive notifications.
At the top of the new items are four touch buttons and one physical, which switches the long-range microphones. One of the touch buttons allows you to switch between the HDMI inputs. The other is a multifunctional Bluetooth button that allows you to connect a smartphone / tablet / laptop to play music or pair with a wireless remote control. The remaining touch buttons control the volume in the speakers. Sell JBL Link Bar will begin this fall. True, the cost, even approximate, is still unknown.