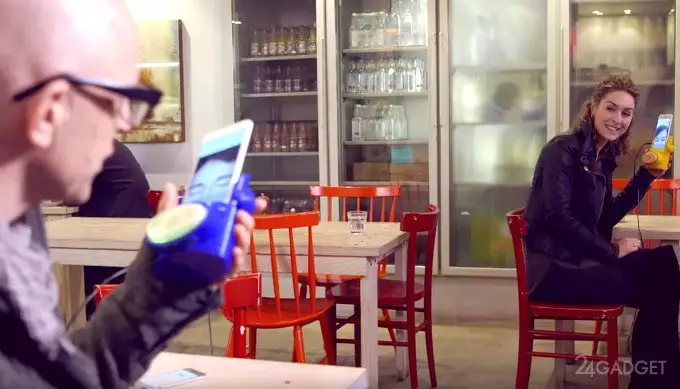 If you no longer have enough tactile sensations to communicate with close text, audio and video messages, then the original smartphone case from the British company Imagineering Lab may be just what you were looking for. The accessory is called Kissenger (from the English words "kiss" – kiss and "messenger" – messenger) and knows how to transfer kisses – they are literally felt on the lips thanks to a special compartment with silicone lips that transmit a tangible message.
In the oval region of silicone, sensors are hidden that record the movements of the lips of the person sending the kiss in a proprietary mobile application. The cover on the recipient's smartphone accurately reproduces the message, taking into account the slightest nuances. It is noted that with Kissenger you can kiss not only husband / wife, boyfriend / girlfriend, but also parents, a child and dear people if they live far away or are on a long trip. In addition, through Kissenger, idols can send virtual kisses to their fans, or you can send a gentle message to a stranger with a similar cover on your smartphone.
In addition to transmitting kisses, the gadget collects information about users: pulse, blood pressure, reaction to kisses and satisfaction with their accuracy. According to these data, developers are improving the system so that kisses from a distance become more accurate. Emma Yann Zhang, one of the inventors, emphasized that soon in the future their device will be able to pass the Turing test, and then electronic kisses cannot be distinguished from real ones. And the technology used in mechanical lips can become part of future humanoid robots.