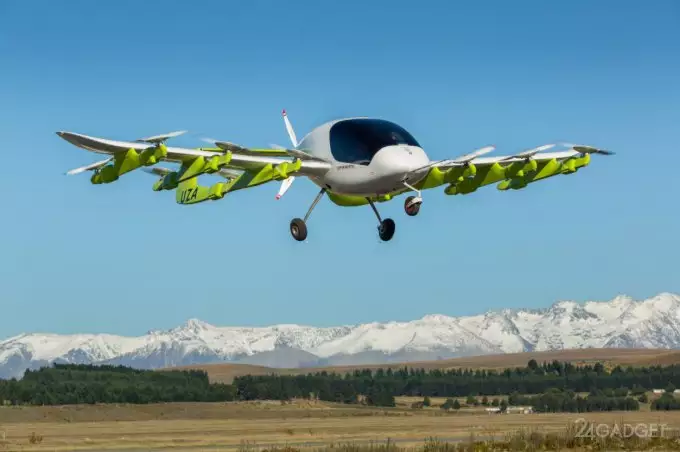 Kitty Hawk is a North American company funded by Larry Page, co-founder of Google. Its representatives reported that in New Zealand, a prototype hybrid air taxi was successfully tested, which will soon be used in passenger traffic.
Testing this aircraft began in the fall of last year, but officially information about it was not disclosed. But now the developers have published a short video, which is dedicated to the design of the Cora aircraft and its testing in the sky over the New Zealand South island.
Cora is a compact device with a wingspan of eleven meters. The tail is U-shaped, with six electric motors placed on the wings, allowing the device to take off and land vertically, for example, on the roof of a building, a parking lot or a small clearing. A propeller is pushed to the double cabin, pushing the plane in horizontal flight. Cora does not damage the environment, working only on electricity. It can fly over a distance of a hundred kilometers, with a maximum flight speed of up to 180 km / h. The creators note that their air taxi can fly even offline, in the future it can be called by phone or through a special mobile application, like our usual land taxi. To conduct tests, the manufacturer concluded an agreement with the New Zealand government. The authors of the flying taxi project believe that within three years the final version of the flying device will be put into production and will be used for commercial purposes.