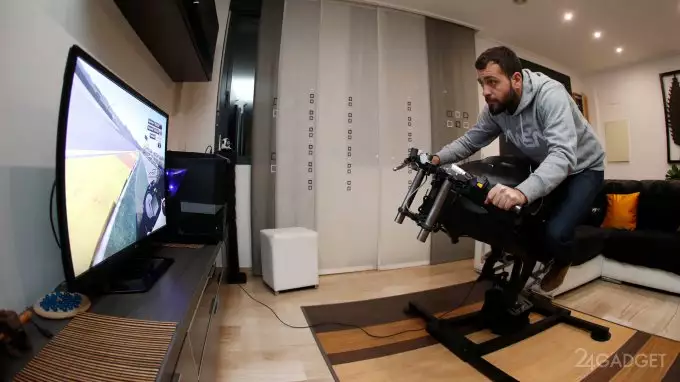 Fans of computer games can easily revive the game by buying a steering wheel and a racing chair, but fans of motorcycle races have been deprived of their attention until recently. The Spanish startup also announced the creation of an affordable motorcycle simulator called LeanGP.
Creating a motorcycle simulator is quite a costly process, both in terms of the effort spent and the material side. The problem in creating such an aggregate is the difficulty of "copying" a real motorcycle and writing programs to support it, which will simultaneously track body motion sensors and the game situation. LeanGP developers went a little different way, they simplified the \Management is carried out using the steering wheel and body position. All these manipulations are simultaneously perceived by the game program, similar to control from a gamepad.
LeanGP was developed with the ability to support various games and accessories, and even virtual reality headsets Oculus Rift, HTC Vive and others. Startup specialists managed to realize the plug and play principle. Support for game consoles Paystation 4, Xbox, Nintendo Switch is also implemented. The pre-order simulator price for Kickstarter is 999 euros.
, LeanGP