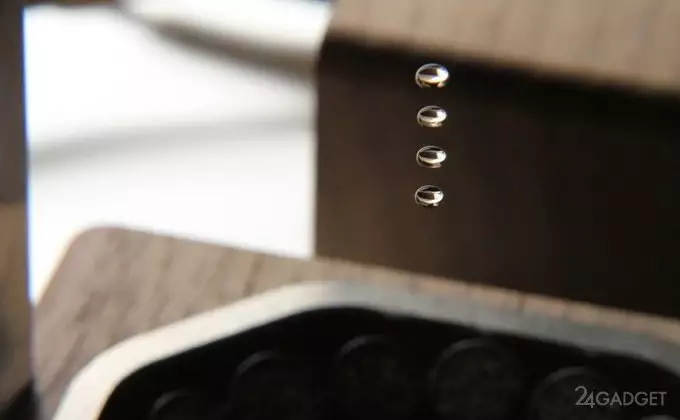 Gadget projects have already appeared on the Kickstarter crowdfunding platform that make you soar various objects, such as bonsai trees, a light bulb, a plant pot, a smartwatch charger, a portable speaker, a vinyl record player and much more. That's just the basis of all these inventions were electromagnets, the difference was only in the object of levitation. LeviZen is a much more curious gadget. There is not a single magnet in it, but drops of water, hanging beautifully in the air, do not fall.
LeviZen works with water droplets held in place by "just" acoustic levitation. The gadget is more like a retro-style lamp or headphone amplifier. The control unit made of walnut is equipped with an aluminum panel, a large regulator and toggle switches. It connects to a structure of a pair of wooden squares interconnected. Each of them is equipped with ultrasonic emitters, creating waves directed towards each other. \
Using a pipette, droplets are placed at the intersection of a pair of waves. They clean it just by bringing a napkin. No one can hear or hear these sounds. LeviZen is also equipped with a built-in backlight that turns on automatically in the dark and gives a drop of spectacular glow. The cost of new items is $ 199. Deliver it will begin in July this year.