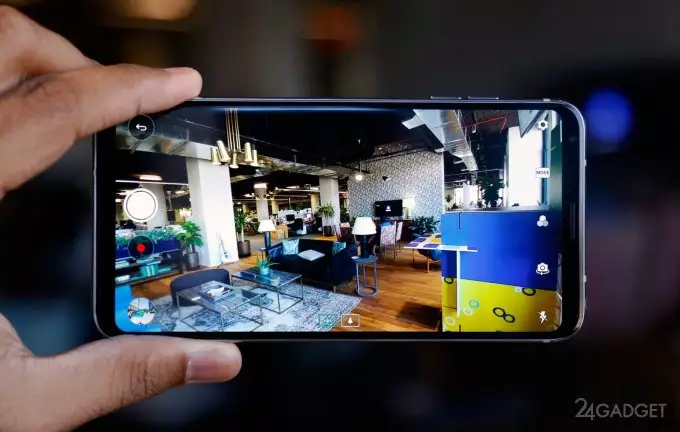 Several years ago, every smartphone maker raced, offering the highest number of megapixels in their cameras. The new competition is the number of cameras squeezed into the mobile device. Usually there are three of them – two on the rear panel and one on the front, but there are flagships with four sensors. Among them, for example, BQ Aurora with dual selfie and main modules, as well as the top-end smartphone Huawei P20 Pro, which has a triple main camera. But LG, a South Korean company, is said to have gone a step further in the new V40 and deploy a total of five cameras. This news comes from \According to the leak, the LG V40 will house a pair of cameras on the front panel and three on the back. Note that the V-series has long been for LG a way to show promising developments, try out new features such as an additional display, stereo speakers and wide-angle cameras. Some of these features eventually expanded to the flagship series of the G-series, others were thrown back for good.
On the rear panel, the three cameras will consist of a standard sensor, one of the LG wide-angle cameras and an unknown third sensor. It can be monochrome, telephoto or something completely new. The Huawei P20 Pro, which also has three main cameras, comes with standard, telephoto and monochrome sensors. The front cameras are not just for selfie. According to rumors, LG will use one or both cameras for the new face unlock system. Perhaps the smartphone will be able to use selfie cameras to perform 3D-stereo display of the face of the owner for added security. Allegedly, LG will retain the fingerprint sensor as a backup security method.
It is expected that the LG V40 will receive the flagship Qualcomm Snapdragon 845 chip, a button for the Google Assistant voice assistant and the proprietary Quad DAC audio path to provide high-quality sound. The announcement of the news is expected in late summer as part of the IFA 2018 exhibition, which will be held in Berlin from August 31 to September 5.