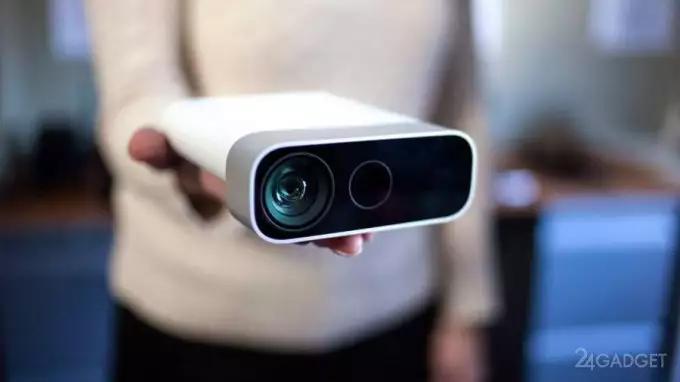 At MWC 2019 in Barcelona, Microsoft introduced a device that returns consumers a gadget previously manufactured under the Kinect brand and designed to remotely control games using motion sensors and a microphone system. The company removed Kinect from mass production in 2017.
The new Azure Kinect device is an improved version of its predecessor and is available for use in a single complex with HoloLens 2 Augmented Reality Glasses, also announced by the company at MWC 2019. Azure Kinect is a computer peripheral that processes video and audio information in the Azure cloud service . At the same time, technologies of artificial intelligence, in particular, machine vision, are actively used. The price of the new gadget is $ 400.
Azure Kinect device principles were unveiled at Microsoft Build last year. The new product uses a 12-megapixel RGB camera and a time-of-flight sensor, which is responsible for assessing the image depth (a similar sensor is installed in HoloLens 2). The speaker system of the device consists of seven microphones.
Azure Kinect is currently testing the Ocuvera medical company to monitor the situation of patients in order to warn medical staff about cases of patients falling.