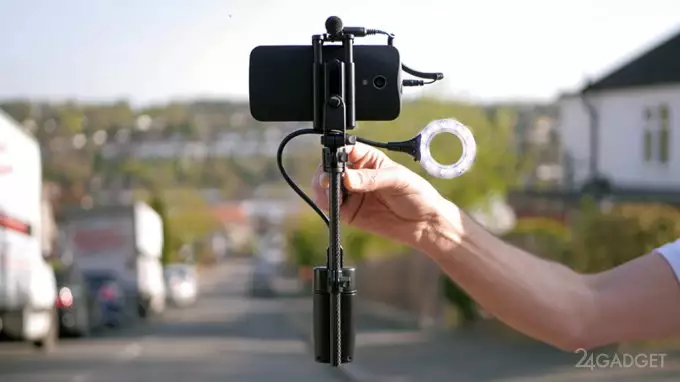 Today, many use the smartphone's camera as an alternative to professional equipment. The advantages on the face are mobility, ease and efficiency, which are so appreciated by lovers of social networks. But the quality of shooting and stabilization, even with top gadgets, have not yet been brought to perfection. Help in the decision can modern accessories. For example, MiniRIG is a portable stabilizer and tripod with a microphone and backlight.
The developers tried to equip the product with everything necessary for comfortable mobile shooting. So, the backlight has a flexible mount and can be moved to the desired position. The subject can be highlighted with different light intensity (5 options) and even change the temperature of the light. The kit also includes an external microphone. But the design of the device allows you to use any option for sound and lighting, which is already available from a mobile photographer.
MiniRIG customers will have the opportunity to choose the shooting mode, since the accessory is adjustable holders. A removable adapter will provide compatibility with various smartphones and action cameras, including GoPro.
On MiniRIG, you can pre-order on Kickstarter. The cost of the device is $ 47.