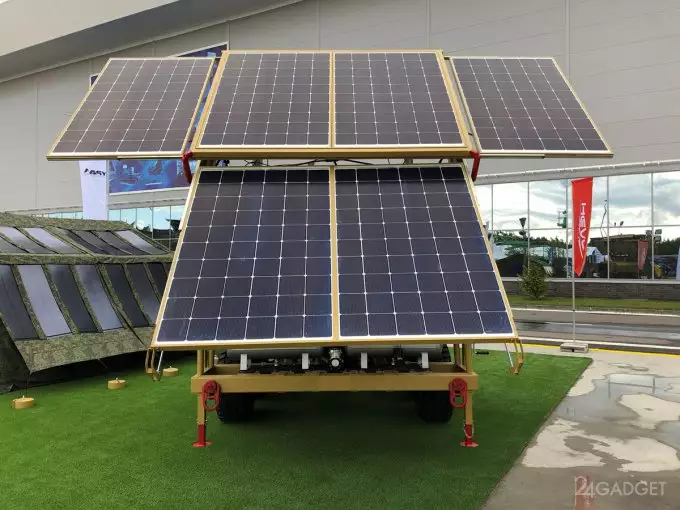 There are still many hard-to-reach and undeveloped areas on Earth, but the study of remote territories in modern conditions requires a constant supply of electric energy. Engineers from Russia successfully solved this problem. An autonomous, mobile solar power station will help researchers, emergency services, rescuers and farmers. The mobile power plant was developed by a group of engineers from the Kinetika High Complexity Prototyping Center of NITU MISiS, together with representatives of Hevel and NPO Pobeda. The developed mobile installation will provide an autonomous supply of electricity for 50 hours.
The energy part of the installation – solar panels are manufactured by the Hevel company. The scientific and technical center of the company, located in St. Petersburg, is responsible for the design of the electrical part of the mobile power station. It was in the Hevel company that the first idea came about creating a compact mobile installation for supplying energy to remote areas. The installation uses unique Russian-made solar panels with an efficiency of photovoltaic cells reaching 23%. This will allow you to quickly recharge the batteries and resume the supply of electricity at a specific point, cut off from the centralized supply of energy.
A mobile energy complex has been developed that is equipped with 1.8 kilowatt solar modules and 19.2 kilowatt-hour batteries. The batteries are fully charged in 10 hours. The installation is based on a mobile trailer and consists of 6 light panels, 3 spotlights illuminating the surrounding area, and a light mast. The trailer on which the unit is mounted has a high cross-country ability, which allows the module to be delivered to remote, inaccessible areas.