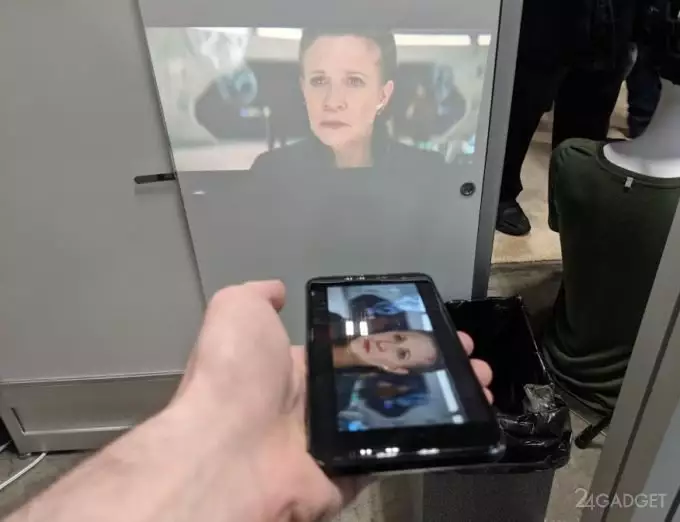 Imagine that you can now carry in your pocket an entire movie theater based on an ordinary smartphone. Just such a device called Moviphone was introduced by Wireless Mobi Solutions. It allows you to watch any images and videos on a 100-inch screen, and the smartphone can work in projector mode for four hours.
The development is based on the integrated laser projector. As a result, Moviphone is capable of projecting images with a resolution of 1280 × 720 pixels (720p) and a brightness of 50 lumens on a screen or vertical surface, the diagonal of which reaches 100 inches, that is 2.5 meters. In appearance, the device resembles ordinary smartphones in an all-metal case. It has a 5.5-inch Full HD screen (1920 × 1080 pixels) and a popular fingerprint scanner on the back. The projector is located in the upper side face. The gadget does not have folding legs, so you have to either hold it in your hand all the time or install it on a special stand.
The equipment of the smartphone includes an 8-core MediaTek MT6750V processor with a frequency of up to 1.5 GHz and a Mali-T860 MP2 graphics accelerator, 3 GB RAM and 32 GB internal, as well as two cameras: the main 16-megapixel with a ring flash, like some Motorola Moto smartphones, and an 8MP front. The battery capacity is 4,000 mAh. There is Wi-Fi 802.11b / g / n and Bluetooth 4.1, a GPS receiver, an FM tuner and a standard set of sensors. The OS is Android 7.0 Nougat.
The company announced the serial release of Moviphone, its cost will be $ 599. Dimensions of the device are 153.06 × 75.64 × 10.28 mm, weight does not exceed 200 grams.
Note that, before, manufacturers thought about "crossing" a smartphone with a projector. So, back in 2010, the Samsung Galaxy Beam appeared, and in 2016 a plug-in module with a Pico projector was released for the Motorola Moto Z smartphone line.